Maintenance
Previously, we addressed some items you should include in your breaker maintenance procedures. Now, we'll look at three more such items. These are typically mentioned together. The industry jargon for these is "check anchorage, alignment, and grounding."
What do these really mean?
Anchorage. Typically, a breaker mounts to its enclosure (or draw-out rack) via several bolts. Check all fastening points.
Alignment. This test procedure involves operating the breaker multiple times to ensure the secondary connectors properly engage. The actual testing doesn't take long, but setting it up could take considerable time due to load disconnecting requirements and necessary safety procedures.
Grounding. Breakers in your facility are bonded, not grounded (see NEC Art. 100 definitions). At a minimum, visually inspect. To maximize reliability, test the bonding connections with an AC low-ohm meter.
Visit EC&M's website to see the answer.


Advertisement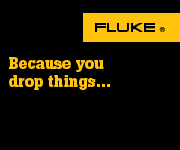 Get a grip on accuracy.
The Fluke 62 Mini non-contact thermometer is the perfect introduction to infrared (IR) thermometers for the professional. With the best accuracy in its class, the Fluke 62 Mini offers quick and reliable surface temperature readings. Rugged enough for industrial environments with its protective rubber "boot, the 62 Mini also comes with a handy nylon holster.
Repair
Your facility has an outbuilding for security personnel (the guard shack). Though small, the guard shack has utilities run to it, including power and water. All incoming vehicles are stopped here at an electrically operated gate that only the guards can open. The guards check ID, enter the visitor information into the security system (shared via wireless LAN with the front desk and others), and issue visitor badges.
Last fall, the guards would occasionally complain about "static electricity," and now the complaints are more frequent and more severe. Instead of "static electricity," they speak of receiving an electrical shock.
What should you do to troubleshoot this problem?
Visit EC&M's website to see the answer.


For many cable-pulling applications, you will have to purchase the cable on a spool and put the spools on a reel. If pulling three conductors and a ground wire, you'll need four spools on that reel. The weight can add up rather quickly, so choose your spool carefully.
Spools may be metal or wood. To ensure metal spools don't cause problems, inspect them for bent sides and sharp edges; repair before mounting on a reel.
Setting up a reel of spools on a stick of conduit suspended between two empty reel stands works fine when the weight on that stick doesn't add up to much. But as the weight increases, the friction at the mounting points (plus the deflection in the stick itself as it bends) will introduce added tension in the pull.
To read more on this story, visit EC&M's website.

Advertisement
E-Mon D-Mon Smart Meters
E-Mon D-Mon Smart Meters provide advanced energy monitoring features for billing/allocation, power quality, load control, net metering and green building initiatives including dual-protocol communication for simultaneous operation with multiple BAS systems, billing packages, M&V reporting and/or E-Mon Energy AMR software. For information contact E-Mon, the Industry Leader in Submetering at (800) 334-3666 or visit www.emon.com/ecm212a.asp
Operation
Section 110.22 requires each disconnect to be legibly marked with its purpose unless that purpose is evident from the location and arrangement of the disconnect. Some people assume the use of the word "legibly" is a holdover from the days when handwritten signs were considered acceptable, and anything not handwritten complies with the legibility requirement. That assumption is false. In fact, signage or markings can be illegible if stenciled or stamped on a tag or directly on the disconnect.
Here are some ways this might happen:
The sign material isn't durable in the environment it's being used in. A plastic laminate might curl or separate due to heat, a fiber-based material might decompose, and metal might corrode. There is no ideal material; there is only material suitable for a given environment.
The lettering (e.g., paint or ink) isn't durable in the environment or doesn't stay on the sign material (or body of the disconnect).
The means of sign attachment isn't durable (e.g., hung with string instead of wire).
The printing is too small.
The lighting makes the lettering hard to read. Stainless steel stamped tags are prone to this problem.
What's implied but not stated is the marking must be readily visible. If you must hunt for the label, the goal of Section 110.22 is defeated.



If you're storing your touch-up paint and other flammables in a specially designed flammables cabinet, that's great. However, don't defeat the purpose of the cabinet by improperly using it. Follow these basic rules to maintain safety at your facility:
Choose a safe location. Place the cabinet away from ignition sources, high lift truck traffic, intakes to the HVAC system, and fire exits.
Never store open containers. Flammables cabinets are designed to hold closed containers, only. They aren't designed with ventilation hoods for open containers.
Don't exceed the cabinet capacity. An overloaded cabinet can't safely contain the flammables. For large amounts, use specially designed storage rooms that have controls to minimize risks of fire or explosion.
Isolate from flammables. Don't allow other departments to stack their paper file archives or spare fluorescent lamps near it.
Inspect and maintain. Clean up spills immediately. Add an integrity inspection to your PM system.
Keep doors closed. If people leave the doors open, padlock the doors and make them sign out a key.
Advertisement
Baldor Electric Company
For decades, ABB variable speed drives and Baldor motors have set the standard for quality, reliability and energy savings. Now, industrial customers in the U.S. can buy these products and receive expert support from a single source. Call 479-646-4711 to locate the sales and support office nearest you. Click Here.
Shows & Events
The Professional Electrical Apparatus Recyclers League (PEARL) will present its 15th Annual Electrical Safety, Reliability and Sustainability Conference & Exhibition from May 5-7 in Pittsburgh, Pa. Conference topics include Lessons for Electrical Safety and Reliability; IEEE Perspective of Circuit Breaker Conversions and Switchgear Life Extensions; Equipment Safety Opportunities; PEARL and ANSI Standards Updates; and Technician Certification. For more information and to register, visit the PEARL website.


Advertisement
Calbrite's Flex Conduit is the ideal solution for areas where rigid conduit is difficult to install or good absorption of motion and vibration is key. Its strength, durability and highly flexible smooth interior make it an ideal solution for protecting electronic and electrical wires and cable. Available in bare flex, clear coated and PVC coated styles.