Your heat tracing has been protecting lines and vessels from freezing. But winter isn't over and, as each day passes, the likelihood of a heat tracing failure increases due to time in service. How can you improve the odds? The following tips will keep your system warm and cozy:
Check the bonding. Is your system connected to the earth, or is it properly bonded? See the NEC Art. 100 definitions of bonding and grounding to make sure you fully understand the components in your system.
Protect against leakage. Are your branch circuit protection devices ground leakage equipment devices? If not, consider upgrading. If yes, how will you know when they trip (see the next tip)?
Look at the latest offerings of heat trace monitoring products. Many of these can increase heat trace reliability. Some can also provide cost savings by eliminating unnecessary maintenance and alerting you to problems.
Look at the latest offerings of heat trace control products. These include useful features that may have been unavailable when your system was installed, such as energy management, remote access, data logging, and trending.
Protect against ground faults. In the event of a fault, a system without ground-fault monitoring could suffer extended downtime. Bring your system into compliance with the current NEC [427.22].
Review ground-fault protection implementation. Use GFCI for people protection (3mA to 6mA trip), not for equipment protection (30mA trip).
Advertisement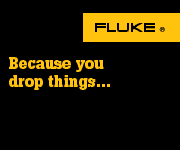 The Fluke 62 Mini digital thermometer is the perfect introduction to infrared (IR) thermometers. It's compact and portable for technicians to diagnose HVAC problems and monitor the temperature of electrical motors and panels without contact. Rugged enough for industrial environments with its protective rubber "boot" and handy nylon belt holster to take quick temperature reads.
Your heat tracing has monitoring so that operators get an alarm if a break occurs. Last week, an outdoor storage tank lost heat tracing on its overfill line. A couple of days later, it lost heat tracing on its fill line. Yesterday, it lost heat tracing on its drain line. Today, the overfill line heat tracing failed again. In each case, the heat tracing was broken.

Techs prevented freeze-ups by making splices promptly. The shift supervisor remarked, "As extremely cold as it's been, we're lucky they fixed the heat tracing in time to prevent lines from freezing."

How can you track down the cause(s) of these failures, and could they be related?


Visit EC&M's website to see the answer.


Advertisement
Baldor offers the broadest line of energy efficient industrial electric motors in the world. Fractional to 15,000 Hp, there's a Baldor Super-E® premium efficient motor for any need…any application. Visit our website and receive your free copy of EISA 2007 along with Baldor energy savings information.
Click Here
At your facility, is the scenario for repairing heat tracing something like this?
Walk out to the piping and look.
Walk back to the shop to get a few tools.
Walk back to the piping.
Make a roundtrip for a tool you forgot.
Make a roundtrip to get your DMM.
Take some measurements.
Walk back inside for break time.
Walk….
All this walking back and forth wastes time. The solution is to keep a heat tracing repair checklist (specific to the protected equipment) in your CMMS. By preparing for the job with this list, the repair tech can walk once to the piping and once back.



Must industrial facilities submit plans to the AHJ before commencing work? The correct answer is no, but you must permit the AHJ to review the plans [Annex H, 80.21(A)]. So if you want to be legalistic, you comply with the NEC if you don't ban the AHJ from seeing your drawings. Technically correct is one thing, actually right is sometimes another.

In some cases, it's better to seek forgiveness than to ask permission. Electrical installations are never among those cases. For these installations, it's better to get design issues addressed before construction than to encounter the costs and delays of rework.

So, let's say the AHJ approves the plans. You do the work in compliance with the plans. Then the electrical inspector identifies a code violation that requires significant rework. But you stand on your AHJ-approved drawings as proof that you have an exception to the code requirement the AHJ is relying on. Who's right?

To read more on this story, visit EC&M's website.



Advances in test equipment open possibilities for reducing the window of exposure. Some innovations have eliminated some "routine" tasks altogether (for example, power monitors). Other innovations reduce total exposure time, but newer versions reduce it even further. For example, clamp-on ammeters and DMM inductive accessories solve the problem of having to break connections to measure current.

But the jaws you have may not be shaped for all of the wire access limitations you face. Even if you have an impressive collection of jaws, you might spend extra time in front of energized equipment pulling on cable bundles and cutting ties to allow your clamp to fit. That problem is now greatly alleviated by flexible clamps.

Cable testing during non-shutdown conditions is often necessary. Sure, you de-energize the circuit under test, but you're still working within range of an arc blast. Compared to previous generations, today's insulation resistance testers are faster, easier, and safer to use.