With winter comes the risk of power loss to the facility due to heavy snows, ice storms, or excessive cold. Facilities with emergency systems and critical processes typically install a battery backup. Just having a battery backup isn't exactly the same as protecting against power loss, but good execution of battery monitoring can make them effectively the same thing.

Bart Cotton, a battery monitoring consultant, is fond of saying that you need someone to monitor your battery monitor. That someone needs to understand what the monitor is saying and what to do in response. Otherwise, Cotton wryly notes, "It's just a wall ornament."
To read more on this story, visit EC&M's website.


Advertisement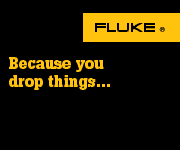 The Fluke 62 Mini digital thermometer is the perfect introduction to infrared (IR) thermometers. It's compact and portable for technicians to diagnose HVAC problems and monitor the temperature of electrical motors and panels without contact. Rugged enough for industrial environments with its protective rubber "boot" and handy nylon belt holster to take quick temperature reads.
The good news is your UPS came online as soon as the power went out. The bad news is it dropped the load almost as quickly. The plant manager, furious, announced that he'll be holding the UPS manufacturer responsible, saying "Their product obviously doesn't work as advertised." However, you know the fault probably isn't with the UPS itself, and you want to solve the actual problem so the load doesn't drop in the future. So you ask your boss to wait until you've been able to conduct battery testing. He replies, "We sent a tech out there with a hydrometer, and the batteries are good." What troubleshooting should you do?
Visit EC&M's website to see the answer.


Advertisement
Baldor offers the broadest line of energy efficient industrial electric motors in the world. Fractional to 15,000 Hp, there's a Baldor Super-E® premium efficient motor for any need…any application. Visit our website and receive your free copy of EISA 2007 along with Baldor energy savings information.
Click Here
Suppose a lighting ballast fails. Replacing it is usually a complete repair, but such a failure should rarely occur. How do you know if this is a "one-off" or a symptom of a root cause that needs attention? One key is to track all failures in your CMMS and periodically analyze accumulated data for repair frequency by type of failure.

The likely root cause of chronic ballast failure is poor power quality. Don't confuse power quality with harmonics (harmonics is a subset of power quality). Your harmonics analyzer may show no problems while ballasts are blowing due to periodic or sustained voltage sags, overvoltage, or alternating sags and surges.

In our next issue, we'll discuss what to do at the service panel to eliminate a recurring repair cost.


If there are industrial chemicals in your facility, then the electrical department must account for them even if you aren't in a multi-craft environment and even if no electricians will actually be using those chemicals. The NEC addresses this issue in Articles 501 through 517, and it provides Art. 500 as the basis for correct interpretation and application of those Articles.

Article 500 contains the definitions and general requirements that apply to all hazardous locations. Articles 501, 502, and 503 each apply to a specific hazard classification defined by the types of materials involved. Articles 504, 505, and 506 provide requirements for specific hazards. Article 510 is a very short introduction to specific hazardous locations. Specific hazardous locations are named and described in Articles 511 through 517, which also provide their requirements.


To read more on this story, visit EC&M's website.


Maintenance and repair on manufacturing equipment may involve working with chemicals, especially solvents. Electricians might go a long time between training and working with these chemicals.

In many facilities, today's environment is an odd combination of a skilled worker shortage and staff cutbacks. The result is a multi-craft environment. An electrician may be taking on many non-electrical tasks, without the craft training required for safely performing those tasks.
To read more on this story, visit EC&M's website.