In our previous issue, we raised the issue of knowing what's normal for the batteries of your backup or emergency power system. You begin that process by taking baseline data. By "baseline data," we mean a set of measurements that shows the initial condition of each battery and battery string. These measurements become the basis for condition trending and alarming.

At the very least, take initial measurements of any quantity your battery monitor is capable of monitoring. These include "as installed" (e.g., internal resistance) and "post startup" (e.g., jar temperature). Go beyond electrical measurements by recording visual inspection information and taking "as-installed" photos.
To read more on this story, visit EC&M's website.


Advertisement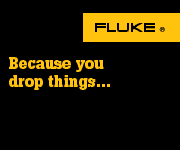 The Fluke 62 Mini digital thermometer is the perfect introduction to infrared (IR) thermometers. It's compact and portable for technicians to diagnose HVAC problems and monitor the temperature of electrical motors and panels without contact. Rugged enough for industrial environments with its protective rubber "boot" and handy nylon belt holster to take quick temperature reads.
You just left a meeting with the plant manager and the controller. They reviewed year-over-year costs with you, using bar graphs generated by the accounting software. For 2010, the category "Replacement Purchases, Admin Areas" is six times larger than it was in 2008. A breakout materials list shows most of this went to new electronic ballasts. The plant manager remarked that this was puzzling, because a contractor had been hired in 2009 to do extensive electrical PM work in the administrative areas precisely to lower these kinds of costs.

This project had been commissioned and overseen by the corporate office. You had no hand in it, but now your boss wants you to figure out what's wrong. Where should you start?


Visit EC&M's website to see the answer.


Advertisement
Baldor offers the broadest line of energy efficient industrial electric motors in the world. Fractional to 15,000 Hp, there's a Baldor Super-E® premium efficient motor for any need…any application. Visit our website and receive your free copy of EISA 2007 along with Baldor energy savings information.
Click Here
If electronic loads have been failing frequently, you can probably find the root cause at the distribution panel(s) supplying those loads.

First, trace the problems to their common point of supply — the last (electrically closest to the load) panel common to the affected equipment. You should look for:
Power issues: Voltage, current, and harmonics.
Physical issues: Connection integrity and bonding conformance.
Check the bonding against NEC Art. 250, Part V requirements after reviewing the definitions of grounding and bonding in Art. 100. Don't "retorque" connections, as this actually degrades connections. Instead, use a thermal imaging camera to look for hot spots. Don't tighten the connection and call that a repair. Ask yourself why that connection is loose in the first place. Probably, the fasteners do not clamp properly and thus need replacement.

In our next issue, we'll focus on power issues.



Is the dreaded "Code violation" really that bad? Many people seem not to think so. You've probably heard stories like the one about the frustrated electrical engineer who compiled a list of dozens of Code violations but couldn't get the funds to fix them.

Managers who believe NEC compliance is merely "a nice goal" may be in for a rude awakening when they arrive at the facility to start their workday, only to find it's been shut down by the sheriff or some other authority. The AHJ is required to issue a written warning [80.23] but isn't required to allow you sufficient time to fix the problems in a cost-effective manner. If the problems are egregious, the insurer may suspend coverage (effectively forcing a shutdown) until its inspector reports the violations have been fixed.

Letting Code violations stew until you get written notice from the AHJ is bad, simply because the facility isn't safe. If management doesn't find this sufficiently motivating, the law provides other incentives. For example, the AHJ's notice will likely include a compliance deadline. Each day that the deadline is missed counts as a new violation [80.23(B)(1), with each carrying separate and additional penalties.



In our previous issue, we provided tips to help you safely perform tasks that involve chemicals. Here are a few more to take note of:
Always read the material safety data sheet (MSDS) before using opening a new supply or container of a chemical, even if you've used that chemical before. The MSDS may have been updated to provide new safety information based on changes to the chemical, changes to the container, or new user data since the last MSDS was produced.
If the MSDS has an inhalation warning, check for adequate ventilation before commencing work. An open door isn't necessarily adequate. You may need fans to establish a minimum required airflow.
The MSDS may require or recommend specific PPE. Note that this doesn't mean "if readily available."
Where the MSDS provides ventilation and PPE requirements, these are meant to work in conjunction. The recommended PPE is inadequate if you don't also meet the ventilation requirements.