The action needed in response to a battery-monitoring system alert can vary from adjusting the float voltage to replacing a jar. You need to determine responses ahead of time. Just as you have your battery system maintenance planned with specific actions to be performed at specific times, you also need your monitoring system alert responses planned with specific actions to be performed for specific alerts.

To get this right, establish three matrices:
Response(s) required for a give alert. To map this out correctly, you must know what a given alert means. For example, what could be going on in a battery string for which there's a high temperature alert? A battery monitoring consulting firm is an excellent resource for this type of planning.
Personnel qualified to perform specific actions. Just "sending a tech" increases the risk of actions that are incorrect or unsafe. Once you create your response matrix, determine who is qualified to perform each response, and consider having specific alerts go directly to a specific qualified person.
Resources needed for specific response actions. Plan the job, including tools, PPE, cleanup materials, ventilation, and instrumentation.
Advertisement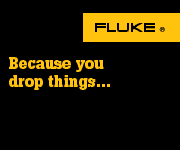 The Fluke 62 Mini digital thermometer is the perfect introduction to infrared (IR) thermometers. It's compact and portable for technicians to diagnose HVAC problems and monitor the temperature of electrical motors and panels without contact. Rugged enough for industrial environments with its protective rubber "boot" and handy nylon belt holster to take quick temperature reads.
You were recently promoted and now the battery backup system is your baby. Your predecessor had installed a battery-monitoring system that sends event notifications to specific mobile devices, such as your Blackberry. But the system monitors so many things, the list makes your head spin.

However, that's not the real problem. Throughout the day, you're getting alerts all the time. Yesterday afternoon, for example, you received 33 alerts for various conditions. There's no documentation showing why some of these conditions are alerted. You went through the standard diagnostic procedure and checked everything. All you found was some corrosion on a jar connector, which you cleaned off.

Today, the alerts are at it again. Can you ignore some of these? Is there something wrong that your diagnostic doesn't detect? Or is something else happening?
Visit EC&M's website to see the answer.


What kinds of power issues can cause electronic loads to fail, and how can you find them at the distribution panel? Using your DMM, you can find two common culprits. Measure the phase-to-neutral voltages on the supply side of the panel. You are looking for:
Correct nominal voltage. Consult IEEE Recommended Practice for Electric Power Distribution for Industrial Plants (IEEE Red Book) for specific allowable voltage ranges.
Voltage balance. If the difference between any two measurements exceeds 2%, you have voltage imbalance. This causes premature motor failure and other problems.
If either problem exists, check at your service panels to start narrowing down the source of the problem. Now, repeat these measurements on the load side of each branch circuit breaker. If the problems exist on some circuits but not others, address the loads on the problem circuits.


Advertisement
Baldor offers the broadest line of energy efficient industrial electric motors in the world. Fractional to 15,000 Hp, there's a Baldor Super-E® premium efficient motor for any need…any application. Visit our website and receive your free copy of EISA 2007 along with Baldor energy savings information.
Click Here
Five requirements apply when connecting equipment to the electrical supply [80.25(A) – (E)]:
If permit-required work was done without a permit (or as otherwise provided under 80.25), you can't connect the installation to an electrical supply. The illegal work is one offense, connecting it is yet another. To resolve unpermitted work that is complete, contact the AHJ.
The AHJ can extend special permission for temporary power to supply specific needs of a construction project.
The permit should include an expiration date for the inspection window. If yours doesn't, contact the permit issuer. Once the time limit (normally X number of business days) expires, your supplying utility can connect to the electrical supply if the electrical inspector hasn't disapproved the installation. The utility may conduct its own inspection.
If the facility is located where an electrical inspector hasn't been authorized or there's an inspector but the inspection isn't required, the supplying utility can connect to the electrical supply.
The supplying utility is required to report illegal (e.g., uninspected) installations to the chief electrical inspector. The problems resulting from such a situation can seriously delay start-up. Have the inspection and permit documents in proper order before the utility comes out to connect.
In our previous two issues, we provided tips to help you safely perform tasks that involve chemicals. Chemical dangers can also exist due to security problems. No security means is 100% effective, so be alert to security breaches that involve people entering a restricted area or leaving with chemicals:
Entering. Hazardous areas typically have limited or controlled access. People working in such areas usually know everyone who is authorized to enter. If someone you don't know enters, stop your work. Ask the person to prove authorization to enter. If he or she cannot prove it, ask them to leave, and then immediately notify the nearest supervisor or security personnel. Also notify your supervisor.
Leaving. If someone tries to steal hazardous materials from the job site, it's probably too dangerous for you to personally intervene. Instead, note something that will help you provide a good description and contact the nearest supervisor or security personnel immediately. Again, also notify your supervisor.