Product of the Year Competition
Your vote will help us identify the 2011 Platinum, Gold, and Silver Product of the Year award winners. EC&M subscribers, simply review the products from the 2011 EC&M Product of the Year category winners list, and then choose your favorite from the drop-down menu. Three lucky voters will be randomly selected to receive $100.
The voting poll will remain open through 5 p.m. on May 20. Please, only one vote per EC&M subscriber. Any votes received from manufacturers, PR firms, or non-EC&M subscribers will not be counted.
Last year, the Stuxnet worm made big news in the industrial controls community (see IEEE Spectrum, 2010-11 issue). It was the first worm specifically targeted to Supervisory Control and Data Acquisition (SCADA) systems. It modifies code on PLCs to take control of them.
Worms get into control systems almost exclusively through human error. For example, someone violates control system rules and uses a USB drive. And if the drive happens to be infected….
The most common means of entry is through a security door left wide open with weak logons or passwords. If, for example, your logon is "Admin" you need to change it. Typically, the IT department informs users about security measures, and yet users don't comply because "it's a hassle." Indifference to security is a form of sabotage, and companies have the right to terminate employees with that attitude.
While the maintenance department typically doesn't do the IT function, it's the maintenance department that is going to get the call when things stop working in the plant. In our next issue, we'll look at some worm prevention and mitigation steps you can take.
Advertisement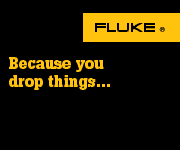 The Fluke 62 Mini digital thermometer is the perfect introduction to infrared (IR) thermometers. It's compact and portable for technicians to diagnose HVAC problems and monitor the temperature of electrical motors and panels without contact. Rugged enough for industrial environments with its protective rubber "boot" and handy nylon belt holster to take quick temperature reads.
Your PLC-controlled system was operating perfectly until a week ago. Since then, it has crashed four times — bringing production down. Your division vice president happened to read about last year's Stuxnet worm. When alerted to this crashing problem, the VP told you to install antivirus software on the PLC system. What should be your response, both to the VP and in the form of an action plan to find the cause of these crashes?
Visit EC&M's website to see the answer.


When responding to a network crash, don't just reboot the system and consider the problem solved when it comes up again. Network crashes can be caused by a variety of factors, and they aren't all IT problems.
Some electrically related problems to look for include:
Data loss points. A network analyzer can help you see where and why data loss is occurring. The data loss point may be an active device (e.g., a switch) or passive device (e.g., connector).
Poor cabling connections. Contrary to common assumptions, this affects wireless networks in addition to wired ones. In a "wireless" network, the network is wired all the way to the "access point" devices that provide the "wireless" part of the network. Use a network cable tester appropriate to the level of the cabling system (e.g., Cat. 5).
Grounding and bonding issues. Review the definitions of these terms in Art. 100 of the NEC. Grounding is probably not where your problem lies. Review Part V of Art. 250, and then inspect the network for conformance.
Power anomalies. Because industrial network devices tend to have high tolerance for voltage deviations, power issues may seem unlikely. However, if the MOVs typically used for surge protection are zapped, the circuits will continue to operate. They just don't have MOV protection anymore. Check the power monitor logs for voltage spikes. If such spikes show up, they may have caused the crashes. Replace defective or suspect MOVs, and then determine if your facility's surge protection scheme follows best practices.
Advertisement
Baldor offers the broadest line of energy efficient industrial electric motors in the world. Fractional to 15,000 Hp, there's a Baldor Super-E® premium efficient motor for any need…any application. Visit our website and receive your free copy of EISA 2007 along with Baldor energy savings information.

Over the past decade, broadband has made huge inroads into production facilities. These facilities are increasingly making use of intelligent devices, real-time video monitoring, and various bandwidth-hungry applications that run on a local area network (LAN) or wide area network (WAN). Article 830 applies to these networks. Other Articles may also apply to a given network.
However, one question often arises: Are wireless networks covered by the NEC? Yes, because all networks are wired (as mentioned in the Low-Voltage Network Repairs item above.
To read more on this story, visit EC&M's website.


If your industrial controls system becomes infected with some kind of malware, a worm may disable software-controlled safety features by a variety of means. You might examine your control system programming and conclude that it's simply not possible for Motor 3A to start when the system is in maintenance mode and administratively locked out. The problem is, a worm could rewrite the control logic and/or open administrative locks.
The solution is to add mechanical safety means, which is a best practice anyhow. For example, don't lock out the motor only from the software. Add the step of opening the disconnect and physically locking it out. Make a point of isolating every possible energy source. This doesn't mean just electrical energy sources. For example, lower the punch press to its bottom of stroke position to remove the kinetic energy it would have if stopped at its top stroke position.
Although an industrial process can be fully automated, safety cannot.