Product of the Year Competition
Your vote will help us identify the 2011 Platinum, Gold, and Silver Product of the Year award winners. EC&M subscribers, simply review the products from the 2011 EC&M Product of the Year category winners list, and then choose your favorite from the drop-down menu. Three lucky voters will be randomly selected to receive $100.
The voting poll will remain open through 5 p.m. on May 20. Please, only one vote per EC&M subscriber. Any votes received from manufacturers, PR firms, or non-EC&M subscribers will not be counted.
Advertisement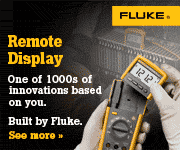 Real life sparks real innovation. The Fluke 233 Remote Display True-rms Multimeter is based on a true story. Yours. That's because we built it after listening to what mattered most to pros like you. Get faster, safer and smarter. Learn more at www.fluke.com/innovation233
You make maintenance decisions about things such as:
Components: Clean, adjust, repair, replace — how do you know when to do what? Doing these activities when unnecessary means incurring unnecessary costs. Not doing them when necessary incurs unnecessary risk.
Equipment. Is equipment reaching the end of its cost-effective service life? What about controls, instrumentation, lubrication systems, and other "peripherals?"
Infrastructure. Do you need to upgrade, replace, or maintain your power distribution and communications infrastructure? What about production systems infrastructure (e.g., air compressors, HVAC, chilled water)?
Only with proper testing can you make the correct decisions. The above examples share the goal of cost control.

To read more on this story, visit EC&M's website.


Advertisement
Baldor offers the broadest line of energy efficient industrial electric motors in the world. Fractional to 15,000 Hp, there's a Baldor Super-E® premium efficient motor for any need…any application. Visit our website and receive your free copy of EISA 2007 along with Baldor energy savings information.
Incidents of equipment failure have increased noticeably over the past year. A review of maintenance department records shows a rise from historic levels in purchases of motors, lamps, ballasts, circuit boards, control modules, circuit breakers, and branch circuit distribution transformers. Nuisance circuit breaker trips have also increased, though the load measurements almost never show more than about 70% load on a given breaker. What are some first steps toward solving this problem?
Visit EC&M's website to see the answer.


In Part 1, we began planning this job, but we're not done yet. There's more planning to do. Do you have the proper tools and fixtures to work with PVC-coated conduit? If not, you may be replacing it yet again before the end of the year.
The tools you need include:
Pipe stand with jaws suitable for clamping PVC.
Hacksaw and ample supply of new blades (you can use a roller cutter, but it's tricky to hold the PVC properly).
Conduit threading die suitable for PVC (a standard die won't work).
Degreasing spray (e.g., TCE 1,1,1 or equivalent) for cleaning the PVC after cutting.
PVC touchup compound.
PVC-bending shoe(s) for your conduit bender. Remember, the PVC is a coating over the standard trade size conduit, so the PVC-coated conduit is thicker than the trade size would indicate. If you don't have a shoe designed for PVC, consult the bender's manufacturer about the possibility of using the standard shoe in the next trade size up.
Fine-toothed wrenches and pliers made especially for PVC conduit. If you don't have these on hand, the crew will have to wrestle with strap wrenches or just not do the job until obtaining the proper tools.
If all of this sounds like too much hassle, there is an alternative. Contact your electrical distributor about locating an electrical firm that has staff certified as PVC-coated conduit installers (PVC-coated conduit manufacturers offer formal training).
Advertisement
Thinking outside the box - so you can see inside it!
Based on the same patented design as the VPFR, the IRISS CAP series of windows offer a stable transmission rate - proven compatibility with acids, alkalis, UV, moisture, humidity, vibration and high frequency noise. Who Says Infrared Windows Have to be Round? Not IRISS! Contact IRISS for more information at: +1 (941) 907-9128.
Suppose your broadband service provider has run cables to an interface box on your building exterior and has run a small ground wire from the cable shields or connector sleeves to a local ground rod. This setup violates the requirements of Art. 250 Part V because those cable shields are at a different potential from the other metallic objects. The ground rod itself isn't a bonding jumper and neither is the soil in which it's buried.
To fix this, you have two options:
Remove the ground rod. Using the proper clamps, bond the broadband cabling shields/connectors to a nearby equipment grounding (bonding) jumper so the cabling is at equipotential to the other metallic objects.
Leave the ground rod in place, but ensure the grounding wire is adequate and proper clamps are used. Then run a bonding jumper from that rod to a nearby equipment grounding (bonding) jumper (again, using the proper clamps). This makes the rod a supplemental rod instead of a useless rod.
This fixes only the exterior bonding problem. You should also ensure the interior cabling is bonded to this same system.



Commonly recognized examples of confined spaces include transformer vaults and manholes. But we don't declare something a confined space only if it's on a list of recognized examples. A space is "confined" if getting in or out of it is difficult, or the space isn't meant for continuous occupancy. By the OSHA definition, both conditions must be met. Should this be your definition?

If you just want to see what you can legally get by with, the OSHA definition is adequate. If you want to identify hazards and protect yourself from them, then a space is confined if either condition is met.

An equipment vault may be easy to enter and exit. Just go through the door. Is that vault "confined" or not? A shallow pit is easy to enter and exit. You don't even have to bother with a door. While you're lying on your belly adjusting the sump pump level float, accumulated carbon dioxide kills you. Should you have pulled a confined space permit?