Product of the Year Competition
Your vote will help us identify the 2011 Platinum, Gold, and Silver Product of the Year award winners. EC&M subscribers, simply review the products from the 2011 EC&M Product of the Year category winners list, and then choose your favorite from the drop-down menu. Three lucky voters will be randomly selected to receive $100.
The voting poll will remain open through 5 p.m. on May 20. Please, only one vote per EC&M subscriber. Any votes received from manufacturers, PR firms, or non-EC&M subscribers will not be counted.
Advertisement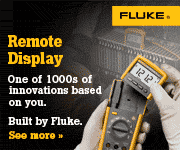 Real life sparks real innovation. The Fluke 233 Remote Display True-rms Multimeter is based on a true story. Yours. That's because we built it after listening to what mattered most to pros like you. Get faster, safer and smarter. Learn more at www.fluke.com/innovation233
Do you have the expertise to properly conduct the tests needed to make good maintenance decisions? If not, these are some common areas of error that will crop up:
Ground testing. This often results in useless information due to erroneous testing procedures. One common mistake is conducting three-point ground testing with the utility power connected, thus bringing the neutral into the measurement. The results have no validity for the purposes of ground testing.
Motor testing. What's burning up windings or causing electronics to fail? Sticking a DMM on motor drive output terminals won't give you a complete picture. For that, you need a power analyzer as well as training so you know what to look for and what you're looking at when you find it.
Breaker condition. Few facilities have the in-house expertise to correctly, safely, and efficiently ascertain breaker condition. Study the manual for any big breaker, and you'll see why.
Harmonics evaluation. A harmonic analyzer or power analyzer can provide useful data. But do you know the conditions under which some data means more than other data or what actually constitutes an actionable problem?
We'll look at a solution to these problems in our next issue.
Advertisement
Baldor offers the broadest line of energy efficient industrial electric motors in the world. Fractional to 15,000 Hp, there's a Baldor Super-E® premium efficient motor for any need…any application. Visit our website and receive your free copy of EISA 2007 along with Baldor energy savings information.
Click Here
Your plant has a production machine that's fed by a roll of steel at one end and spits out a metal product at the other. The machine cuts, stamps, and welds robotically to create custom-made products for customers to use in making their own products. A typical product is similar to the metal tub in your kitchen range or refrigerator.
The new QA manager just informed you that an entire run is out of spec, and he wants the machine adjusted so the product meets spec. You know the mechanics keep the dies in good condition and the setup crew always tests a small run to ensure the setup is correct. What should you do?
Visit EC&M's website to see the answer.


Suppose a piece of production equipment is down. You open the controls cabinet to be greeted by the unmistakable smell of burnt semiconductors. You replace the toasted circuit board and voilà — the machine starts and runs properly. While you exchange high fives with the operator, another downtime call comes in. Off you go to solve yet another downtime issue. But did you really solve this one?
You could assume that the board was destroyed by some kind of spike that came in through the service entrance. This is a bad assumption, because most power quality events (and chronic power problems) originate inside a facility. To complete this repair, you must go through a methodical investigative process to identify the source of that power quality problem. The process may not identify this particular problem, but skipping it means you definitely won't identify the problem.
To read more on this story, visit EC&M's website.


Advertisement
Many facilities are installing wireless routers to provide connectivity between industrial process devices and control systems as well as setting up wireless networks for other reasons. However, wireless routers still require a wired system behind them (usually with Ethernet to the routers). Sometimes, a wireless network ends up being wired even in a "user zone." For example, metallic obstructions may be easier to wire around than to try to surmount wirelessly. If you have broadband, you have a wired system. This means compliance with Art. 830.
To read more on this story, visit EC&M's website.


Before working in any confined space:
Review the confined entry procedures for that particular space. If a copy isn't posted near the entrance, notify your supervisor.
Ensure a qualified attendant will be present the entire time you occupy the confined space. The attendant is qualified only if he/she understands the relevant extraction and rescue procedures and has the required equipment at the location.
The confined entry procedure may call for specific tests pertaining to variables such as gases or temperature. Don't assume the tests have been done. Instead, check the written log to see who did them and when. If the tests aren't current, notify your supervisor, and don't enter the confined space. A test is current only if done for your crew on your shift.
Inspect your breathing and extraction PPE.
If anything isn't right, stop work and immediately inform your supervisor about the problems you encountered. Entering the confined space before all problems are solved could prove fatal.