Product of the Year Competition
Your vote will help us identify the 2011 Platinum, Gold, and Silver Product of the Year award winners. EC&M subscribers, simply review the products from the 2011 EC&M Product of the Year category winners list, and then choose your favorite from the drop-down menu. Three lucky voters will be randomly selected to receive $100.
The voting poll will remain open through 5 p.m. on May 20. Please, only one vote per EC&M subscriber. Any votes received from manufacturers, PR firms, or non-EC&M subscribers will not be counted.
Over the years, the typical facility accumulates the detritus of fast-track projects and various efforts to do more with less. Some misguided attempts at "efficiency" have produced gross inefficiencies, and the place is littered with "Easter eggs" that will eventually result in unplanned downtime. To head off failures (and possible catastrophe), you must make informed decisions on spending limited maintenance resources. You become informed by conducting the proper testing.
Few facilities have the expertise for this testing. However, firms with such expertise are available. How do you go about selecting such a firm and then selling the idea to the bean counters? You won't succeed by merely ordering a bunch of tests and hoping to find something. Instead, you need to make a business case for a specific program of testing.
Pick a major system (e.g., plant power distribution), and obtain the applicable standards. Among the organizations providing authoritative standards for electrical maintenance and testing are IEEE, NFPA, and NETA. Determine what gap exists between the needed tests and your capabilities for doing them. Now you know the delta and can look for a qualified testing firm.
Advertisement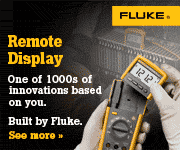 Real life sparks real innovation. The Fluke 233 Remote Display True-rms Multimeter is based on a true story. Yours. That's because we built it after listening to what mattered most to pros like you. Get faster, safer and smarter. Learn more at www.fluke.com/innovation233
You recently transferred to a plant with high rates of circuit board failure. Last week, a manufacturer's rep asked, "Are you using these for fuses over there?" The worst news came yesterday when a manufacturer said they had no spares left to send you. This means replacing the entire system, and that's a capital project headache you must fast track because the machine makes a part for a critical customer.
Your job depends on fixing this as quickly as possible. Where should you start?
Visit EC&M's website to see the answer.


Violations of Art. 250, Part V and Chapter 3 of the NEC are responsible for most of the equipment damage related to power quality. But what exactly are these violations?
The Art. 250, Part V violations are errors of bonding. From Art. 100, we know that bonding means creating a metallic path that establishes electrical continuity between metallic objects. When this continuity is absent, you get a difference of potential between those objects. This voltage can build up to fairly high levels before equalizing via a flashover. That particular event destroys semiconductors and also presents a personnel hazard.
Article 250, Part V addresses another issue, which is that of circulating currents. By establishing a system bonding path, you provide electricity with a low impedance path for getting back to its source — instead of circulating in circuits and overheating components.
To read more on this story, visit EC&M's website.


Advertisement
Baldor offers the broadest line of energy efficient industrial electric motors in the world. Fractional to 15,000 Hp, there's a Baldor Super-E® premium efficient motor for any need…any application. Visit our website and receive your free copy of EISA 2007 along with Baldor energy savings information. Click Here
You'll probably find a common error in broadband system installation by looking at your own home or one nearby that has broadband service to the structure. This same problem exists today in many facilities that would solve mysterious failures if they would fix this Code violation.
The requirements in 830.93 refer repeatedly to grounding and, in this context, that is correct. But it's not the whole story on the requirements, and unfortunately grounding is where many installers stop.
When you read Part IV of Art. 830, a more complete picture emerges. If you were to draw that picture out on paper, you would see a line running from the broadband grounding electrode to some point on the main grounding system. That is, it connects to the Intersystem Bonding Termination (defined in Art. 100).
To read more on this story, visit EC&M's website.


Compensation for job-related injuries can't really make up for, say, the loss of an eye. But did you know you might not receive compensation at all? Reasons a court may use to reduce or void mandatory compensation include:
Being under the influence of drugs (even if prescribed).
Refusing to use PPE (e.g., not wearing safety glasses).
Willfully breaking safety rules.
Willful misconduct. Courts have held that horseplay is willful misconduct.
You also might be unable to collect compensation if you fail to report an injury promptly. For example, you strain your back. You don't think it's serious, so you play "wait and see" over the weekend. By Monday, you're in severe pain so you report the injury. However, now it can't be established that your injury occurred on the job.

Report any injury, no matter how minor, right away. Make a practice of asking what can hurt you and how you can protect yourself. This way, you prevent the injuries that come with compensation concerns.