Suppose you've determined what testing you need done by a qualified testing firm. Now, how do you select the firm? Because you'll trust this firm to do dangerous work quickly, accurately, thoroughly, and safely, use a much higher standard of care than what applies to selecting the lawn care firm for your facility. Don't put out three bids and select the lowest one. Instead, approach this as if you were hiring an employee. Use basically the same methods to ensure you hire a highly qualified firm.
Examine the relevant training, experience, and certifications. Discuss with them their work methods so you can determine if you are hiring a safety-conscious, procedure-based team that pays attention to details. Contact references to confirm what the testing firm tells you.
Don't make the mistake of writing up a huge, complex contract or project schedule and then trying to find someone to work to it. The working documents will be most beneficial to you when they result from consultation and collaboration with the testing firm. Talk about the specific work you need performed, and ask how they recommend doing it.
Advertisement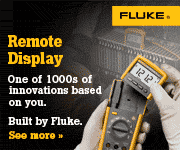 Real life sparks real innovation. The Fluke 233 Remote Display True-rms Multimeter is based on a true story. Yours. That's because we built it after listening to what mattered most to pros like you. Get faster, safer and smarter. Learn more at www.fluke.com/innovation233
You recently took a job at a plant with high rates of equipment failure. Your new boss said solving this is a high priority. Being the ace troubleshooter that you are, you head out to the production floor to look at the equipment and talk with the operators.
On some enclosures, you notice odd rainbow-colored splotches and "hatchet marks" in some places. You ask an operator about this, and she replies it doesn't bother her. "What bothers me," she says, "is I get a shock every time I use the drinking fountain."
What's the problem?
Visit EC&M's website to see the answer.


The main purpose of Chapter 3 wiring method requirements is to prevent the melting of conductors. Some of these requirements also reduce or prevent power quality issues that damage equipment. Look for violations of:
300.3(B). Running conductors (current-carrying, neutral, and bonding) from the same circuit in different raceway. The electromagnetic fields generated in these conductors will tend to cancel each other out. However, if run in separate raceway, those fields don't interact and thus don't cancel each other.
300.3(C). Running different system conductors together without ensuring all of them have an insulation rating at least that of the maximum voltage applied to any conductor. A classic example is running signal wiring in with 480V power wiring, consequently smoking input circuits.
300.10. Allowing discontinuity of metallic raceway systems. Where the resulting differences of potential are great, the flashover can provide a lethal shock hazard to people and/or destroy equipment. Where the differences are moderate, the consequence is the circulation of undesired currents that can easily cause semiconductor failure.
To read more on this story, visit EC&M's website.


Advertisement
Baldor offers the broadest line of energy efficient industrial electric motors in the world. Fractional to 15,000 Hp, there's a Baldor Super-E® premium efficient motor for any need…any application. Visit our website and receive your free copy of EISA 2007 along with Baldor energy savings information. Click Here
Every company needs to save money. So when you're doing an electrical installation, just how close to NEC compliance do you really need to be?
The NEC answers this question in 90.1, making four important points:
It's about safety.
It's not necessarily going to provide you with a money-saving, efficiently operating design. For that, you may need to exceed Code requirements.
It's not a design manual or tutorial.
It's about safety.
The first and fourth points aren't explicitly redundant in the NEC, but the underlying message is. You follow NEC requirements to get a safe installation. You may need to exceed those requirements to satisfy engineering considerations.

To read more on this story, visit EC&M's website.



A little reading can help you stay safe. For example:
Safety signs give you safety information about a specific location, such as "Splash goggles required." When entering an area, stop and look for safety signs. Don't disregard a new sign; it's probably there because conditions have changed.
A container label gives you safety information about the specific product in the container. This information may have changed since you last used this product, so read the label each time. If a coworker must be evacuated due to injury from this chemical, ask the EMTs if they want the container.
A Material Safety Data Sheet (MSDS) also provides safety information about a specific product. But this sheet comes with a shipment rather than being affixed to a container. Someone, such as your storeroom administrator, has this on file. Be sure to read it before obtaining a given chemical. As with labels, this information is subject to change.