Which of these motor maintenance methods do you think is most cost-effective?
Conduct scheduled PMs that include measuring bearing runout, inspecting the windings, testing insulation, realignment, and lubrication.
Save the PMs for only the most expensive motors; replace all others when they fail.
Skip all of the PMs, except for lubrication.
To read more on this story, visit EC&M's website.


Advertisement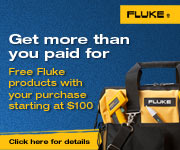 For a limited time Fluke is giving you more than you paid for – free Fluke tools with purchases starting at $100. Just in time for the summer cooling season, get the tools you need and receive a 2AC non-contact voltage probe, a C550 tool bag or a Fluke 62 IR thermometer as a bonus.
As part of a green initiative, your division VP hired a special team to "clean up the power factor" at every plant. Your plant was the first on the list. Because you weren't involved in the actual work, you requested "as-built" drawings. The VP said those drawings were not in the budget and were not going to happen.
While this lack of documentation is bad enough, you have a more pressing problem. Since this team finished and left, you've had a rise in trouble calls all over the plant. The maintenance department is buried in repairs and repeat repairs. What probably happened, and how do you solve it?
Visit EC&M's website to see the answer.


We previously discussed doing a visual inspection of your distribution system to quickly identify systemic problems. However, this approach doesn't identify every likely problem or quantify before/after. For that, you need testing.
If your facility has a power monitor, great. But it's probably not monitoring at every load. To see what's going on at the loads, you need a power analyzer and a true RMS DMM.
Previously, we worked from the one-line down. Now we'll work in the other direction; start at one of the troubled loads.
To read more on this story, visit EC&M's website.


Advertisement
Baldor offers the broadest line of energy efficient industrial electric motors in the world. Fractional to 15,000 Hp, there's a Baldor Super-E® premium efficient motor for any need…any application. Visit our website and receive your free copy of EISA 2007 along with Baldor energy savings information.
Click Here
The NEC can be a confusing source of information for those individuals who don't truly grasp the terms used within it. That's why it's valuable to take a few minutes to become familiar with the definitions in Art. 100.
Accessible. This means anyone can get to it. The NEC has three flavors:

As applied to equipment. Typically, the NEC limits what you can do if the equipment is accessible. The concern is the safety of unauthorized personnel.
As applied to wiring methods. Typically, the NEC limits what you can do if the wiring method is not accessible. The concern is ease of maintenance and repair.
Readily accessible. With "readily," the idea is you can walk right up to it for access. No climbing over stuff or up ladders is required.

Ampacity. The NEC provides ampacity requirements (and tables) based on how small a conductor can be, not on how big it should be. This is a crucial distinction. Meeting the ampacity requirements won't necessarily provide you with an efficient design. Not meeting them will necessarily provide you with an unsafe design.
Approved. This doesn't mean approved by a manager in your company — it means approved by the authority having jurisdiction (AHJ). The AHJ is determined by your state's electrical board (EB). The EB members are appointed by your governor (or, in some locales, the EB and AHJ are determined at the city, not state, level).
The Hazard Communication Standard (HCS):
Gives you the right to know the hazards of materials with which you work.
Prescribes to employers their duties on your behalf.
Provides information requirements for manufacturers (of hazardous materials).
Many states have related laws that also apply. You don't have to know these laws unless your job responsibilities include HCS compliance (i.e., you're the safety director).

Your role in HCS covers two areas:
Training. Your employer is required to help you learn about any hazardous material you work with, including applicable emergency procedures.
Reading. You're required to read product container labels and MSDS, but your reason for reading them should be to understand what the hazards are and how to protect yourself from them.
Don't use these resources as a means of identifying what PPE is not necessary. Conditions might require PPE beyond what the label and MSDS recommend. Nobody ever lost an eye from wearing safety glasses in a non-required area.
Advertisement
Thinking outside the box - so you can see inside it!
Based on the same patented design as the VPFR, the IRISS CAP series of windows offer a stable transmission rate - proven compatibility with acids, alkalis, UV, moisture, humidity, vibration and high frequency noise. Who Says Infrared Windows Have to be Round? Not IRISS! Contact IRISS for more information at: +1 (941) 907-9128.