Previously, we said that if your motor supply doesn't conform to Art. 430, you'll have a "high maintenance" situation. Conformance with Art. 430, however, doesn't necessarily produce a "low maintenance" situation. Not even in an NEC sense.
For example, consider voltage drop, per the informational note in 210.19(A). You calculate this during the design. If you try to measure it in an installed system, you actually measure a combination of voltage drop and losses (through insulation and across connections) in the run. This measurement can reveal that something is wrong. If you measure 430V at the supply terminals to a 480V motor, you don't need to calculate voltage drop to know you have a problem. But what exactly is the problem?
To answer that question, calculate the voltage drop between the motor and its supply. Then, compare that to the measured voltage loss. If the two numbers are close, you have a design problem — undersized conductors. As the numbers grow further apart, your problem is increasingly a maintenance one.
Advertisement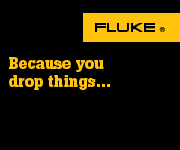 Get a grip on accuracy.
The Fluke 62 Mini non-contact thermometer is the perfect introduction to infrared (IR) thermometers for the professional. With the best accuracy in its class, the Fluke 62 Mini offers quick and reliable surface temperature readings. Rugged enough for industrial environments with its protective rubber "boot, the 62 Mini also comes with a handy nylon holster.
Your plant has been using the same electrical testing firm for many years. One task that the firm handles for you is cable testing. They've always been good at getting in and out, never causing a shutdown to run past schedule — and that includes replacing cables as needed. This year, however, their project manager told you there were too many cables to replace within the allotted time. He suggested scheduling another shutdown just for that purpose as soon as planning and staffing could permit.
What do you tell your boss?
Visit EC&M's website to see the answer.


Suppose you're taking neutral-to-ground (N-G) voltage measurements at a convenience receptacle in the cabinet where circuit boards were turning to toast. How do you know when these measurements indicate there's something wrong?
If you see a volt or two, you have no worries (much higher than that is a bad sign). But if you see 0.10V or less, you may have found the smoking gun. Why?
To read more on this story, visit EC&M's website.


Advertisement
Baldor offers the broadest line of energy efficient industrial electric motors in the world. Fractional to 15,000 Hp, there's a Baldor Super-E® premium efficient motor for any need…any application. Visit our website and receive your free copy of EISA 2007 along with Baldor energy savings information. Click Here
Commonly misunderstood/misapplied terms, part 5.
Grounded conductor. In many wiring systems, the neutral conductor is intentionally connected to ground (earth). But not all systems are grounded, so you can have a neutral that isn't a grounded conductor. Take care you don't blithely use "grounded conductor" and "neutral" as synonyms or, in the field, treat them as such.
GFCI/AFCI. At one time, if you wanted a current trip device your only choice was a fuse. In many applications, a fuse is still an excellent choice. But, like a circuit breaker, it's an overcurrent device designed to protect wiring. It's not a current trip device to protect people. Although there are combo GFCI/AFCI devices on the market, only the GFCI function protects people from shock. An AFCI isn't a "better GFCI," it's a different device for a different purpose.
Identified. The particular device or electrical equipment is suitable for the intended use. Try to buy a "ground rod," and your electrical distributor/supplier won't sell you 10ft of schedule 80 pipe. The rod you get will be identified for that use via listing and/or labeling by a qualified product evaluation organization.
If you've worked with many solvents or other chemicals on the job, you've seen a Material Safety Data Sheet (MSDS). If you haven't seen an MSDS for each chemical, there's a deficiency in your company's safety program. Seeing and understanding aren't the same thing, though. Unfortunately, an MSDS can have an "eyes-glaze-over" effect if you don't know how to use it to get the information you need.
So, let's get a grip on what that MSDS actually is. The first thing to understand is it's a structured report. That structure consists of seven sections, each with a specific purpose. For many chemicals you might use, one or more of those sections will contain "N/A" instead of having information. This doesn't mean the MSDS is incomplete. It means that section doesn't apply to the chemical you're using.
In our next issue, we'll start looking at the sections of an MSDS.