Suppose you measured 485V at the supply of a motor and 430V at the motor. Your voltage drop calculations show that voltage at the motor should be 470V if there are no losses in cabling or connections. Congratulations. You've discovered power distribution system maintenance problems that are reducing motor life. You have serious losses in the cabling and/or connections. These problems probably exist well beyond that one feeder.
You can use thermography to find high-loss connections. But if you just go in and repair those, you may end up doing that work twice. Yes, identify those connections; they will have to be replaced. Before you replace them, perform insulation resistance testing on the feeder cabling.
After you replace defective cabling and connections, repeat the insulation resistance testing to get baseline readings. Why is this important? Because those readings will allow you to properly trend readings when you do the "lessons learned" thing and make cable testing part of your predictive maintenance program. Thermography, too, will be part of any sound program.
Advertisement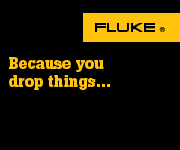 Get a grip on accuracy.
The Fluke 62 Mini non-contact thermometer is the perfect introduction to infrared (IR) thermometers for the professional. With the best accuracy in its class, the Fluke 62 Mini offers quick and reliable surface temperature readings. Rugged enough for industrial environments with its protective rubber "boot, the 62 Mini also comes with a handy nylon holster.
Strange things have been happening in the plant lately. Rumors are circulating about sabotage and industrial spies. Many operators refuse to work at particular machines. Among the many complaints:
Three different drinking fountains routinely shock people.
Machines sometimes shut down in mid-run for no apparent reason.
Red (stopped) and green (running) lights are on simultaneously, though one's dimmer than the other.
Corporate issued a memo to "ground all of the machines." Your boss handed you the work order and wants you to start installing ground rods. How should you respond?

Visit EC&M's website to see the answer.



Previously, we said a neutral-ground (N-G) bond might be upstream of the receptacle where measurements indicate the existence of the bond. We also said that if you didn't find it at the supply panel to check the other equipment on that panel. Fixing this in an efficient manner will require some scheduled downtime. Using the panel directory, you can probably identify the connected loads; however, verify with current drawings. Then, ensure the wiring for each circuit is properly and accurately labeled.

Arrange to do the work when production shuts down for lunch, between shifts, or at some other time the affected production manager agrees will minimize interruption of production. The amount of time required will depend on how many circuits are on that panel.

To read more on this story, visit EC&M's website.


Advertisement
Baldor offers the broadest line of energy efficient industrial electric motors in the world. Fractional to 15,000 Hp, there's a Baldor Super-E® premium efficient motor for any need…any application. Visit our website and receive your free copy of EISA 2007 along with Baldor energy savings information.
Click Here
Commonly misunderstood/misapplied terms, part 6.
Overload. When you're working with circuit protection devices, keep clear in your mind what this term means. Don't confuse an overload with a fault. They aren't the same thing, and protection against one isn't necessarily protection against the other. Overload means operating equipment in excess of its normal, full-load rating (or pulling more current through a conductor than its ampacity permits), when sustaining this long enough would result in damage or dangerous overheating.
Plenum. If you don't understand the layout of the air distribution system in a structure, you could inadvertently run non-plenum-rated cable in a plenum. A plenum doesn't have to be enclosed in sheet metal. The inside space of a wall might be a plenum. An example is the "in the wall" cold air return commonly used in residential dwellings. If an air duct connects to a chamber (or compartment), then that chamber is a plenum.
Qualified person. Being given a task and being qualified to do it aren't the same thing. Nobody wants a botched job or an industrial accident, so speak up if you don't have the skills, knowledge, and safety training a particular task requires. Some tasks may require equipment-specific knowledge. Evaluate each assignment to ensure you're qualified to do it.
Understanding the purpose of each of the eight sections of a material data safety sheet (MSDS) will help you quickly and efficiently get the information you need about whatever chemicals you're using. The first section is "Identity," and it provides the various names the chemical is known by (including street names and trade names). It also provides the contact information for the manufacturer of this chemical.
Chemical Abstract Services is a company that distills down all of the information on a given chemical into an abstract and then assigns that chemical a CAS number. This number is often helpful to emergency response personnel. If an EMT asks you for this number, you simply have to look in this part of the MSDS. The emergency phone number for this chemical is in this section also. If you call it, the operator will probably ask you for the CAS number.
Advertisement
Stainless Steel Light Wall Conduit

Calbrite's stainless steel light wall conduit is equivalent to non-threaded IMC with the corrosion-resistant benefits of stainless steel. Compared to rigid conduit, light wall conduit's thinner wall and lighter weight saves on material and freight costs. The non-threaded design and Calbrite's compression fittings reduce installation time – potentially saving 10% or more compared to rigid stainless conduit.

Learn more