Preventive maintenance (PM) traditionally consists of performing "PM tasks" on a calendar basis (yearly, quarterly, monthly, etc.). These tasks typically involve making physical changes, regardless of equipment condition, which often means fixing, or even breaking, things that weren't broken. Condition-based maintenance improves on this. Instead of going through a litany of transformer reconditioning work, for example, you conduct an oil analysis and do only what's needed.
Accurately assessing equipment condition allows you to predict failure modes and times. Thus, predictive maintenance (PdM) allows you to schedule corrective interventions at a cost much less than reacting to unscheduled shutdowns. But calling your maintenance "predictive" because you do more measuring these days doesn't make it predictive. Consider insulation resistance testing in cabling. When you trend the readings, you can predict a cable failure by spotting that telltale slope change.
Sometimes, management tries to "save money" by increasing the testing intervals. This usually makes the tests forensic. You discover that the insulation leaks instead of seeing it will leak if not replaced soon.
Advertisement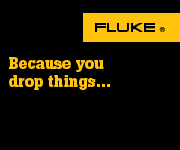 Get a grip on accuracy.
The Fluke 62 Mini non-contact thermometer is the perfect introduction to infrared (IR) thermometers for the professional. With the best accuracy in its class, the Fluke 62 Mini offers quick and reliable surface temperature readings. Rugged enough for industrial environments with its protective rubber "boot, the 62 Mini also comes with a handy nylon holster.
Your plant has a real-time business intelligence system that wirelessly connects various department managers with what's happening on the factory floor. It also provides reports to the corporate office via the Internet. However, this system produces silent periods and gaps in coverage. For example, a graph of Line 3 output might show a 1-hr gap.
You haven't worked on this system before, but you're now the one in the hot seat. Your boss wants answers fast. What should your first steps be?
Visit EC&M's website to see the answer.


Now that you've spent considerable time on the neutral and ground issues, you find that your power quality analyzer still shows flat-topping. What's going on?
To answer this, we'll assume a 4-wire system in this scenario. The typical transformer supplying single-phase loads is of dry-type construction, and it has a 4-wire wye secondary stepping down from 480V. We'll assume that, too. Not every facility has a 4-wire system, and sometimes loads are on a transformer with a delta secondary for power quality reasons.
A common source of flat-topping is transformer overloading. Typically, it occurs through the addition of loads over time. Fortunately, overloading is easy to confirm or disprove.
To read more on this story, visit EC&M's website.


Advertisement
Baldor offers the broadest line of energy efficient industrial electric motors in the world. Fractional to 15,000 Hp, there's a Baldor Super-E® premium efficient motor for any need…any application. Visit our website and receive your free copy of EISA 2007 along with Baldor energy savings information. Click Here
Commonly misunderstood/misapplied terms, part 8.
Sealable equipment. This has nothing to do with sealing against water ingress. It's a security and safety consideration that requires putting the equipment in an enclosure. The live parts of such equipment can't be accessed without opening the enclosure. With the enclosure open, the equipment isn't operable.
Service. The key concept here is a utility provides the power. A service consists of the conductors and equipment that deliver power from that utility to the premises wiring. A large structure might have multiple services.
Service conductors. The location of these conductors on a wiring diagram is what identifies them as service conductors. Not all service equipment conductors are service conductors — only those conductors that run from the service point to the service disconnect are.
Separately derived system (SDS). To be an SDS, a system must have no direction connection between its circuit conductors and those of another system. Additionally, its power must come from a source other than a service. It's common to switch power sources between, say, the utility and a gas generator, using a transfer switch. The generator is an SDS. The two systems are still connected through grounding and bonding. You don't create an SDS by removing bonding jumpers; you merely create a dangerous system.
The Hazard Communication Standard (HCS) contains many requirements for your employer to meet. But you have some responsibilities, too. Under this federal regulation, you are responsible for:
Knowing the health and safety information related to the chemicals you use.
Using that health and safety information.
Using your safety training on the job.
So, what happens if you violate the regulations by not meeting your responsibilities? One obvious possibility is you'll end up hurting yourself or someone else. There may be other civil penalties in the event of an injury. For example, if your negligence or willful misconduct leads to:
Injuring you, then your reward is reduced
Someone else, then you may be at the losing end of civil litigation.
The legal consequences are real, but keeping you and your coworkers safe should be what drives you to understand chemicals you use or encounter on the job.
Advertisement
Thinking outside the box - so you can see inside it!
Based on the same patented design as the VPFR, the IRISS CAP series of windows offer a stable transmission rate - proven compatibility with acids, alkalis, UV, moisture, humidity, vibration and high frequency noise. Who Says Infrared Windows Have to be Round? Not IRISS! Contact IRISS for more information at: +1 (941) 907-9128.