How can you protect your networked manufacturing systems from malware and other undesired infections? Here's a list of suggestions to consider.
Set up a PM for security monitoring. Include things such as auditing systems for "illegal" user accounts, easy-to-guess logons, and easy-to-guess passwords.
Keep a master logon and password file rather than using memorable logons and passwords. If you keep an electronic version, ensure that it's encrypted and does not reside on any machine on the network.
Make backups of PLC programming. Once a PLC is programmed, reprogramming should rarely be needed (unless you have frequent process reconfigurations).
Store all programming, including batch recipes, on removable backup media. Keep these under lock and key; implement usage policies that prevent overwriting backups with infected code (consult a security expert, if needed). When restoring an infected machine from backup, use a copy of the backup as your restore source.
Limit access to PC programming to specific personnel. Ensure each access is entered into a log book or file that specifies the date, time, and purpose of the access.
Coordinate with the IT department for implementation and monitoring of security best practices.

Advertisement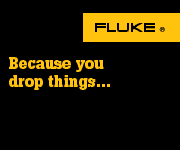 The Fluke 62 Mini digital thermometer is the perfect introduction to infrared (IR) thermometers. It's compact and portable for technicians to diagnose HVAC problems and monitor the temperature of electrical motors and panels without contact. Rugged enough for industrial environments with its protective rubber "boot" and handy nylon belt holster to take quick temperature reads.
Your PLC-controlled process has recently begun to exhibit oscillations. For example, a particular control valve that is normally in a steady position is now continually "seeking" plus or minus about 20% around the setpoint. Several batches have been ruined, and a shift supervisor is making loud noises about how you should "get a factory rep out here to kill the virus that's in the system." What are some first steps toward solving this technical problem and preventing a political one?
Visit EC&M's website to see the answer.


Because of winter's extreme temperatures and freeze/thaw cycles, you may be replacing exterior PVC-coated conduit this spring. But errors in replacing raceway can result in problems rather than provide an effective repair. Plan to pull new conductors instead of reusing the existing ones. It's risky to subject conductors to the stress of removal and re-pull, and it takes far fewer personnel hours to use factory-spooled conductors than to re-spool used conductors or work from piles of wire.
Before scheduling replacement:
Estimate the job duration. Get approved dates from operations.
Evaluate the work area for all requirements, including lighting, ventilation, access, and working space.
To read more on this story, visit EC&M's website.


Advertisement
Baldor offers the broadest line of energy efficient industrial electric motors in the world. Fractional to 15,000 Hp, there's a Baldor Super-E® premium efficient motor for any need…any application. Visit our website and receive your free copy of EISA 2007 along with Baldor energy savings information.
Click Here
You can't just poke a hole in your building's envelope and run broadband cable through it. First, you must assess the circuit power level per Table 830.15 to determine if it's low power or medium power. For low-power circuits, run cable that is type BMU, BM, or BMR. For medium-power circuits, run type BLU or BLX [830.40].
What if the utility-supplied cable doesn't match what you need to run? In that case, you'll need to build and install an interface box on the outside of the building, and connect the different cables inside that box. An interface box is generally advisable anyhow, so you can separate utility cabling from premises wiring outside the building rather than running utility cabling into your building. If the utility needs to replace its cabling, utility technicians won't need to enter your building to do so.
A common problem with broadband cabling is it's grounded instead of bonded. That is, the cable shields tie to a local ground rod. This does nothing for you. In our next issue, we'll see how to fix this problem.


OSHA defines a confined space as any space you can bodily enter and work in but has a restricted means of access/egress and isn't designed for continuous occupancy. This definition isn't precise, but OSHA gives examples (e.g., tanks, bins, and vaults) and assumes employers will "fill in the blanks."
OSHA requires employers to identify its confined spaces (and if in doubt, do not leave it out) and apply confined space permitting to it. But as the definition is itself a bit slippery, so can be compliance.
For example, a manager might conclude that, because employees frequently enter a specific pit and it lacks a roof, it's not a confined space. But what happens if someone in another part of the building spills a heavier than air gas (e.g., carbon dioxide) that flows into the pit? The fact that someone failed to properly identify a confined space doesn't mean it isn't one. Assess every space for its potential hazards.
Advertisement
Thinking outside the box - so you can see inside it!
Based on the same patented design as the VPFR, the IRISS CAP series of windows offer a stable transmission rate - proven compatibility with acids, alkalis, UV, moisture, humidity, vibration and high frequency noise. Who Says Infrared Windows Have to be Round? Not IRISS! Contact IRISS for more information at: +1 (941) 907-9128.