In the February issue, EC&M will be focusing on longer lead times for specified light fixtures for a contractor feature. If you're a contractor that has faced delays in receiving light fixtures that have threatened your schedule, contact Staff Writer Beck Ireland by phone at (913) 967-1806 or e-mail at beck.ireland@penton.com. Your comments may be used for publication in the article.
Advertisement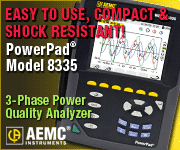 AEMC® Introduces Its Newest PowerPad® Model 8335 Power Quality Analyzer
Model 8335 is a 3-phase power quality analyzer that is easy-to-use, compact, and shock resistant. It has direct measurement of four voltage and four current inputs including neutral voltage and current. It simultaneously captures and records trend, transients, events, and waveforms with 2GB of memory for data storage.
Visit: www.aemc.com .
Employment in construction declined by 16,000 during the month of December 2010 as the industry's unemployment rate hit 20.7%, according to analysis of federal employment figures released in early January by the Associated General Contractors of America. Even as the industry continues to suffer from weak private-sector demand the benefits of the temporary stimulus program appear to be winding down, association officials note.
To read more on this story, visit EC&M's website.
Rosslyn, Va.-based National Electrical Manufacturers Association (NEMA) has published ANSI C136.26-2010, "American National Standard for Roadway and Area Lighting Equipment — Troubleshooting Guide for High-Intensity Discharge (HID) Luminaires." This standard, produced by the ANSI Committee 136 for Roadway and Area Lighting, was last revised in 2003. It offers step-by-step guidance for use in troubleshooting HID lighting fixtures by technicians in the field. It addresses the commonly encountered problems of lamps that are on continuously, cycle on and off, do not start, or burn dimly.
To read more on this story, visit EC&M's website.
The USNAP Alliance, an industry consortium of major stakeholders and utilities in the smart grid, recently announced the final release of its 2.0 specification for enabling interoperable Home Area Network deployment (HAN) deployments. Manufacturers of smart grid devices (SGDs) such as consumer appliances, thermostats, in-home displays, energy management systems, and gateways can use USNAP universal communication modules (UCMs) to connect to a HAN using a variety of connectivity options such as ZigBee, Wi-Fi, Z-Wave, and FM radio, creating a universal HAN device ecosystem.
To read more on this story, visit EC&M's website.
Rosslyn, Va.-based National Electrical Manufacturers Association (NEMA) has formed the Electrical Vehicle Supply Equipment/Systems Section (EVSES) to represent manufacturers of products or assemblies that are installed for the purpose of safely delivering and managing electrical energy between an electric vehicle (EV) and an electrical source.
To read more on this story, visit EC&M's website.


The City of Manhattan, Kan., is soliciting bids for on-call electrical services, which includes providing electrical maintenance and repair services during emergency, urgent, and occasional supplemental scenarios, including after hours, for the City of Manhattan Public Works, as authorized by the City of Manhattan's Assistant Director of Public Works-Utilities or his designee at the office of the City Clerk. The deadline for bids is 3 p.m. CST on January 19. For more information, visit the city's website.
The St. Johns County School Board, St. Johns County, Fla., is accepting sealed bids for the construction of an eight classroom expansion to Osceola Elementary School, St. Augustine, Fla. Scope of work includes electrical construction site improvements. Bids will be received until 2 p.m. EST on February 4. A pre-bid conference will be held at 3 p.m. EST on January 19, 2011. For more information, contact Lance Courtemanche Tercilla Courtemanche Architects, Inc., West Palm Beach, Fla., at (561) 478-4457.


Waco, Texas-based Dwyer Group, Inc. recently announced it has entered into a definitive agreement to be acquired by an investor group led by TZP Capital Partners I, L.P., a private equity fund based in New York. The deal is expected to close by the end of this year.
For more Business Briefs, visit the EC&M website.
According to IMS Research, photovoltaic (PV) module production capacity increased by almost 70% during 2010, reaching nearly 30GW by the end of the year. It is forecast to continue increasing despite the growth of PV installations being predicted to slow from more than 100% in 2010 to less than 20% in 2011.
To read more about PV module capacity, visit the EC&M website.


What caused the electrocution death of a Minnesota Power, Duluth, Minn., employee at a Schroeder worksite in September remains a mystery, even after a state investigation wrapped up last week. The nearly five-month probe by the Minnesota Occupational Safety and Health Administration found no hazards at the site that could have caused the death of Kyle Damberg, a longtime company employee whose body was found in a building under construction. No citations will be issued in the incident for unsafe practices, the final report says.
For more information, read the complete story on the Duluth News Tribune.


The Association of Energy Engineers (AEE) invites you to submit an abstract for consideration to speak at the 34th World Energy Engineering Congress, being held October 12-14 in Chicago, Ill. Suggest topics include energy basics, energy management, renewable energy, and power generation. Online submission forms are due by February 11. For more information, visit the AEE website.


PowerTest 2011: Electrical Maintenance and Safety Conference will take place from February 21-24 in Washington, D.C. Panel sessions for this year's event include a safety Summit, transformer panel, and cable panel. For more information and to register, visit the PowerTest website.
Electric West is scheduled for February 22-24 in Long Beach, Calif. Topics for this year's sessions include:
Business Practices & Profitability
Code Changes & Standards
Design
Lighting
Safety
Measurement and Testing
Power Quality and Reliability
Renewable Technologies/Green Business
Residential/Industrial/Commercial Applications
For more information and to register, visit www.electricshow.com