For the March issue's cover story, EC&M will discuss green products used in electrical construction industry. What products are electrical engineers specifying to give clients the best return on investment (ROI)? Which ones claim to save energy but don't work very well? If you're an engineer who specifies green products or a contractor who installs them and would like to discuss your experience, contact Staff Writer Beck Ireland by phone at (913) 967-1806 or e-mail at beck.ireland@penton.com. Your comments may be used for publication in the article.
Advertisement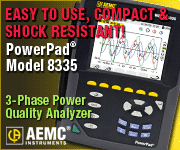 AEMC® Introduces Its Newest PowerPad® Model 8335 Power Quality Analyzer
Model 8335 is a 3-phase power quality analyzer that is easy-to-use, compact, and shock resistant. It has direct measurement of four voltage and four current inputs including neutral voltage and current. It simultaneously captures and records trend, transients, events, and waveforms with 2GB of memory for data storage.
Visit: www.aemc.com .
More construction firms are planning to hire workers this year than are planning to make layoffs, according to the results of an industry-wide survey recently released by the Associated General Contractors of America (AGC), Arlington, Va., and Navigant Consulting, Inc., Chicago. The survey, conducted as part of the 2011 Construction Industry Hiring and Business Outlook, shows the industry may finally be emerging from a severe downturn that has left millions of skilled workers unemployed.
To read more on this story, visit EC&M's website.
Energy-efficient technologies are expected to make up over 75% of the U.S. lighting market by 2020, according to a new report from Pike Research, Boulder, Colo., which describes the key technology and market trends that are driving the use of LED and other high-efficiency lighting in the commercial, industrial, and outdoor stationary sectors. The report analyzes the performance requirements for a number of lighting applications and assesses the suitability of various current and future lighting technologies for these applications. It also includes a ten-year forecast for lamp and luminaire sales in the United States across ten different lighting technology categories in seven major building types and application sectors.
To read more on this story, visit EC&M's website.
The International Association of Lighting Designers (IALD), an international organization supporting a network of 900 lighting design professionals who satisfy its rigorous qualification process, and the Institution of Lighting Professionals (ILP), the United Kingdom and Ireland's largest and most influential professional lighting association, recently signed a memorandum of understanding (MOU) to work cooperatively toward developing the architectural lighting design profession and elevating awareness of quality lighting. The MOU emphasizes the need to demonstrate cooperative collaboration within the lighting profession.
To read more on this story, visit EC&M's website.
Ottawa-based Continental Automated Buildings Association (CABA), through its Intelligent & Integrated Building Council and new Research Program, has completed its 2011 North American Intelligent Building Roadmap. The roadmap research project was designed to outline long-term opportunities in the intelligent building industry. The roadmap provides an understanding of the collective influence of emerging trends within the intelligent building industry, such as energy efficiency, renewable technology, IT convergence, and the integration of buildings with the smart grid.
To read more on this story, visit EC&M's website.


Bigelow Laboratories for Ocean Sciences (BLOS) Center for Ocean Biochemistry and Climate Change, East Boothbay, Maine, will be seeking bids in February 2011 for an electrical subcontractor. Completed prequalification packages are due at 5 p.m. EST on February 4. Interested parties must contact mebids@consigli.com to receive a prequalification package for this work.
The Birmingham-Jefferson Civic Center, Birmingham, Ala., is receiving bids for a frontend lighting control systems retrofit. Bids will be accepted until 1 p.m. CST on February 22. For more information, download a pdf of the advertisement for bids.


San Jose, Calif.-based Rosendin Electric has started construction on the new University of California San Francisco Medical Center at Mission Bay. The $80 million contract to wire the new 878,000-sq-ft. hospital complex includes an energy center, helipad, and support services. Scheduled for completion in 2014, the first phase of this $1.6 billion project is construction of a 289-bed hospital, specializing in care for women, children and cancer patients.
For more Industry News, visit the EC&M website.
According to the American Institute of Architects' (AIA) semi-annual Consensus Construction Forecast, a slow recovery period is projected for the non-residential construction industry this year, and 2011 spending levels are not anticipated to be enough to show growth over 2010 figures. The report also says that, although activity for institutional projects should hover near 2010 levels, there likely will be a modest decline in commercial construction. Overall non-residential construction spending is expected to decrease by 2% in 2011, with 2012 seeing an increase of 5% in inflation adjusted terms.
To read more about the non-residential construction forecast, visit the EC&M website.
Construction firms faced increasing pressure in December as nearly every material used by contractors rose in price, while bid prices for new buildings remained flat, according to an analysis of December producer price index figures released recently by the Associated General Contractors of America (AGC). Association officials warned that the price squeeze on contractors is likely to intensify in 2011 as global demand for construction materials grows and domestic demand for construction services remains weak.
To read more of this analysis, visit the EC&M website.


NECA is currently soliciting entries for its Safety Excellence and Zero Injury Award Program. Submit your online entry by March 1 to be considered for both awards, which are based on safetry records from 2010. To enter, visit the safety awards website. For questions, contact NECA Safety Director Jerry Rivera at (301) 215-4546 or e-mail jerry.rivera@necanet.org.
Electric West is scheduled for February 22-24 in Long Beach, Calif. Topics for this year's sessions include:
Business Practices & Profitability
Code Changes & Standards
Design
Lighting
Safety
Measurement and Testing
Power Quality and Reliability
Renewable Technologies/Green Business
Residential/Industrial/Commercial Applications
For more information and to register, visit www.electricshow.com.

The 2011 Building and Infrastructure Conference will take place on March 3 in New York. Join building, construction, and infrastructure industry leaders for an in-depth discussion about the future of the industry. Topics at this year's event will include:
Is now an opportune time to invest in the building and infrastructure industry?
Is the residential construction industry emerging from its lows?
What sectors are ripe for consolidation?
How can companies position themselves to emerge from today's challenging market environment even stronger than before?
For more information and to register, visit the event's website.