Your vote will help us identify the 2011 Platinum, Gold, and Silver Product of the Year award winners. EC&M subscribers, simply review the products from the 2011 EC&M Product of the Year category winners list, and then choose your favorite. Three lucky voters will be randomly selected to receive a $100 gift check.
The voting poll will remain open through 5 p.m. on May 20. Please, only one vote per EC&M subscriber. Any votes received from manufacturers, PR firms, or non-EC&Msubscribers will not be included in the final tally.


Advertisement
AEMC®'s Clamp-On Ground Resistance Testers Models 3711 & 3731

AEMC® Instruments clamp-on ground resistance testers measure ground rod and small system grid resistance without the use of auxiliary ground rods. Both meters measure ground resistance from 0.01Ω to 1200Ω without disconnecting the rod under test. They also measure ground leakage current from 1mA to 30Arms. The large jaw (1.25") accommodates ground conductors up to 1000MCM. The Model 3731 includes both an alarm function and a memory function, which will store up to 99 field measurements.
With the country's emphasis on energy efficiency and conservation, construction spending for retrofit projects is on the rise. However, with these projects can sometimes come additional risks, such as contact with mold, lead, asbestos, and other hazardous materials. If you're an electrical contractor that has experience working in these environments, contact Staff Writer Beck Ireland by phone at (913) 967-1806 or e-mail at beck.ireland@penton.com. Your comments may be used for publication in the article.


Thirty-six states lost construction jobs between January 2010 and January 2011, even as more states added construction jobs than lost them between December and January, the Associated General Contractors of America (AGC), Arlington, Va., reported in an analysis of state employment data released recently by the U.S. Department of Labor. Association officials caution that despite the increase in monthly employment, the construction industry is still facing severe economic headwinds.
To read more on this story, visit EC&M's website.


Senior executives at NEMA member companies reported that, on balance, business conditions facing their firms improved for a fifth consecutive month in March. The Electroindustry Business Confidence Index (EBCI) for current North American conditions measured 60.9. Any reading above 50 indicates more panelists reported better conditions compared to the previous month than reported worse conditions.
To read more on this story, visit EC&M's website.


The construction industry remains mired in recession as sector employment and spending continued to shrink even as the overall economy is showing increased strength, according to an analysis of new federal employment and construction spending data released recently by the Associated General Contractors of America (AGC), Arlington, Va. Association officials cite the reports as further evidence of the need for measures to boost private and public construction demand to support broader economic growth.
To read more on this story, visit EC&M's website.


Despite the loss of 1,000 jobs in March, the nation's construction industry unemployment rate edged down to 20% for the month, according to the April 1 employment report by the U.S. Department of Labor, as analyzed by the Associated Builders and Contractors, Arlington, Va. Year-over-year, construction employment is down by 36,000 jobs, or 0.6%. Today's rate is lower from 21.8% in February and 24.9% posted in March 2010.
To read more on this story, visit EC&M's website.


Bids for the 2011 Center for the Arts Addition to East Ridge High School will be received by the South Washington County Public Schools, Independent School District No. 833, Cottage Grove, Minn., until 1 p.m. on April 27. Scope of work includes fire protection electrical work, lighting, and alarm systems. For more information, visit the city's South Washington County Bulletin.


The City of Glendale, Mo., is seeking bids for electrical upgrades in its City Hall. The base bid includes replacement of the main distribution panel and sub-panels; alternate number one includes installation of new electrical receptacles; and alternate number two includes installation of new switch and wiring for a generator connection. Bids will be accepted through 3 p.m. CST on May 2. For more information, visit the city's website.


Pasadena, Calif.-based Jacobs Engineering Group Inc. recently announced that the 6.5MW cogeneration facility it designed and built for Oregon State University (OSU) has been awarded the Leadership in Energy and Environmental Design (LEED) Platinum certification. This rating is the highest achievable level of LEED certification by the U.S. Green Building Council, making the OSU Energy Center the nation's first LEED Platinum power plant, as well as the first on-campus LEED Platinum building.
To read more about this project, visit the EC&M website.


Private non-residential construction spending increased 0.9% in February, according to the April 1 report by the U.S. Census Bureau. However, despite February's monthly performance, private non-residential construction spending is down 13.2% from the same time last year. Total non-residential construction spending — which includes both privately and publicly financed construction — stood at $523.2 billion in February, down 0.2% for the month and down 6.3% from February 2010.
To read more about this report, visit the EC&M website.


When a leading data center developer needed more than 4MW of 2N power quickly and efficiently installed at a new site, it needed a hybrid solution due to its unique setup. The white space and other occupied areas were built through a traditional construction process, but electrical rooms were separated out and fabricated using a modular approach. San Jose, Calif.-based NxGen Modular, a specialty manufacturer of modular mission-critical buildings and assemblies, answered the call for a customized approach, installing its first two NxPower electrical rooms at the beginning of March. The modular electrical system offers a power distribution system that includes uninterruptible power supplies and batteries, switchgear, transfer switches, and an integrated monitoring system.
To read more about this project, visit the EC&M website.


For both energy conservation and economic reasons, Thomas Jefferson University and Hospital in Philadelphia, set the goal of reducing its lighting energy consumption by at least 30% without sacrificing illumination quality. Considering the fact that this is one of the largest health care groups in the region (encompassing 4 million square feet of clinical, research, teaching, and housing property), accomplishing this task was a tall order. However, after partnering with Encelium Technologies, based in Teaneck, N.J., the hospital's wish became a reality, after adopting its Energy Control System (ECS) customized lighting control and energy management solution.
To read more about this project, visit the EC&M website.


The Tucson Electric Power (TEP) is preparing to build new grid-tied solar arrays on the roofs of large public buildings to help serve a growing demand for renewable power. Through its new TEP Bright Roofs program, the company plans to lease space atop schools and other public facilities for the development of 11MW of new TEP-owned solar generating capacity over the next three years. TEP Bright Roofs will feed solar energy directly into TEP's local distribution grid, generating enough clean power to serve more than 1,800 Tucson homes.
To read more about this story, visit the EC&M website.


City officials in Mishawaka, Ind., have agreed to settle the first of two lawsuits in connection with the electrocution of a 5-year-old boy. WSBT News, South Bend, Ind., reports that the mother of Izaya Baiz-Hickey filed suit against the city after the boy was killed when he crawled into an unlocked electrical transformer near their apartment building on Thanksgiving Day 2008.
According to the news source, the city's insurance carrier will pay the maximum liability cap of $700,000 after it was determined that the family was not negligent because the boy was not known to have ever left their yard before the incident. It still remains unclear, however, why the electrical box was unlocked and who is to blame.
A second lawsuit has reportedly been filed against Carriage House Apartments and Gene B. Glick Management, which claims that supervisors at the apartment complex should have been performing regular safety checks on the transformer. A lawyer for the Hickeys told the news agency that he has spoken with a number of witnesses who said the transformer had been unlocked for more than two years. The second lawsuit is expected to got to trial later this year.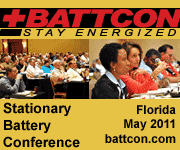 The 15th Battcon Stationary Battery Conference and Trade Show is a three-day, technically oriented event where battery professionals learn more about batteries, trends, and technology. Non-commercial presentations address battery applications, technical advances, and industry concerns. Battcon, scheduled for May 16-18 in Orlando, Fla., offers presentations, discussions, seminars, workshops, and a two-evening trade show.
For more information, call (954) 623-6660, e-mail Jennifer.Stryker@alber.com, or visit www.battcon.com.


The ASES National Solar Conference is scheduled for May 17-21 in Raleigh, N.C. Forum sessions include "Solar Jobs: Analysis of Solar Labor Market Conditions and Trends," "DC-to-DC Converter / Optimizer PV Technology Shoot-Off," and "Balancing Quality Training with Local Market Needs - The Solar Instructor Training Network." For more information and to register, visit the Solar 2011 website.


Organized by the American Wind Energy Association (AWEA), the Windpower 2011 Conference & Exhibition will take place from May 22-25 in Anaheim, Calif. Seminar topics include wind power basics, safety, transmission, and turbine and plant performance. For more information and to register, visit the Windpower 2011 website.