Your vote will help us identify the 2011 Platinum, Gold, and Silver Product of the Year award winners. EC&M subscribers, simply review the products from the 2011 EC&M Product of the Year category winners list, and then choose your favorite. Three lucky voters will be randomly selected to receive a $100 gift check.
The voting poll will remain open through 5 p.m. on May 20. Please, only one vote per EC&M subscriber. Any votes received from manufacturers, PR firms, or non-EC&Msubscribers will not be included in the final tally.


Advertisement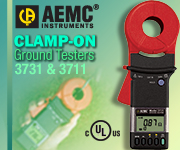 Purchase an AEMC® Clamp-On Ground Resistance Tester and receive a FREE Temperature Data Logger…
AEMC® Instruments UL approved clamp-on ground resistance testers Models 3711 and 3731 measure ground rod and small system grid resistance without the use of auxiliary ground rods. Both meters measure ground resistance from 0.01Ω to 1200Ω without disconnecting the rod under test. They also measure ground leakage current from 1mA to 30Arms. The large jaw (1.25") accommodates ground conductors up to 1000MCM. The Model 3731 includes both an alarm function and a memory function, which will store up to 99 field measurements. www.aemc.com
With the country's emphasis on energy efficiency and conservation, construction spending for retrofit projects is on the rise. However, with these projects can sometimes come additional risks, such as contact with mold, lead, asbestos, and other hazardous materials. If you're an electrical contractor that has experience working in these environments, contact Staff Writer Beck Ireland by phone at (913) 967-1806 or e-mail at beck.ireland@penton.com. Your comments may be used for publication in the article.


Advertisement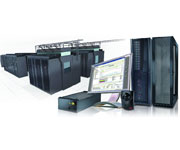 Now align your data center architecture to your business needs in just seconds.
Only APC by Schneider Electric InfraStruxure adapts quickly to your specific business needs. Whether you just acquired a new company or must increase your existing systems, you're most likely facing pressing demands on your company's IT infrastructure. Discover which physical infrastructure management tools you need to operate your data center… Download WP #104 today!
The construction industry added 5,000 jobs in April while the industry's unemployment rate declined slightly to 17.8%, still nearly twice the national average, according to an analysis of new federal employment data released recently by the Associated General Contractors of America (AGC), Arlington, Va. Association officials say the figures continue a year-long trend of little change in construction employment after years of steep declines and predicted the stagnation is unlikely to change soon.
To read more on this story, visit EC&M's website.


Rosslyn, Va.-based National Electrical Manufacturers Association (NEMA) recently released its latest monthly survey of senior member company executives. The survey finds that business conditions improved for the sixth month in a row in April. The Electroindustry Business Confidence Index (EBCI) for current North American conditions measured 57.1. While down slightly from the 60.9 mark recorded in March, a reading above 50 indicates more panelists reported better conditions compared to the previous month than reported worse conditions.
To read more on this story, visit EC&M's website.


March U.S. manufacturing technology consumption totaled $511.15 million according to American Machine Tool Distributors' Association (AMTDA) and the Association for Manufacturing Technology (AMT). This total, as reported by companies participating in the U.S. Manufacting Technology Consumption (USMTC) program, was up 57.6% from February and up 99.0% when compared with the total of $256.88 million reported for March 2010. With a year-to-date total of $1,203.57 million, 2011 is up 118.6% compared with 2010.
To read more on this story, visit EC&M's website.


Adoption of fuel cell powered products is gathering increasing momentum from a wide variety of sectors. The shift from an R&D-based industry to a fully commercial one is well underway but has not been without its setbacks. The reasons for the groundswell of interest are as varied as the sectors that the technology is becoming embedded into. Whether it is the desire to future-proof a home, roll out off-grid mobile base stations in rural Africa, decarbonize transport, clean up ports, reduce energy dependence on oil producing nations, or to increase the resilience of energy networks, fuel cell technology is one of a suite of solutions that is being utilized. The first Pike Research, Boulder, Colo., "Fuel Cells Annual Report" analyzes the state of the global fuel cell industry, its key barriers and drivers, where the industry could be in 2017, and why 2015 is shaping up to be such a crucial point for the industry. This report is produced from extensive industry interviews as well as the Pike Research fuel cell forecast model.
To read more on this story, visit EC&M's website.


The Delaware River Port Authority of Pennsylvania and New Jersey, Camden, N.J., is seeking bids for the installation of a lightning protection system at its Birch Street Electrical Substation, Hazelton, Pa. Bids are due by 11 a.m. EST on May 26. For more information, visit www.drpa.org.


The School District of Lee County, Fort Myers, Fla., is soliciting sealed bids for electrical maintenance and repairs. Project scope includes electrical maintenance and repairs on an as-needed basis as may be requested at various district locations. The deadline for bids is 2 p.m. EST on June 2. For more information, visit the district's website.


Rosslyn, Va.-based National Electrical Manufacturers Association (NEMA) has published ANSI C136.40-2011, "American National Standard for Roadway and Area Lighting Equipment — Solar Lighting Systems." This new standard, produced by the ANSI Committee 136 for Roadway and Area Lighting, defines requirements for the specification and installation of DC solar-powered roadway and area lighting systems. Topics addressed include light source requirements, batteries, internal labeling, and power controls. As municipalities look for ways to take advantage of solar-powered equipment, this standard will provide valuable guidance for installations.
To read more on this new standard, visit the EC&M website.


According to the report "Offshore Wind Power" from Pike Research, as global investment in wind turbines continues to increase and a greater percentage of the world's electricity supply comes from wind energy resources, developers, manufacturers, governments, and investors are turning their attention to offshore wind farms as a means of further expanding wind power capacity. Despite key challenges facing the industry, the report forecasts that investment in offshore wind power will surge in the next several years and, as a result, total installed power generation capacity will increase by a factor of 17 between 2011 and 2017, rising from just 4.1GW of installed capacity to 70.1GW by the end of the forecast period.
To read more on this report, visit the EC&M website.


Industry Week reports on new analysis by The Boston Consulting Group (BCG) that predicts net labor costs for manufacturing in China and the United States to converge by around 2015. "All over China, wages are climbing at 15% to 20% a year because of the supply-and-demand imbalance for skilled labor," says Harold L. Sirkin, a BCG senior partner. "We expect net labor costs for manufacturing in China and the U.S. to converge by around 2015. As a result of the changing economics, you're going to see a lot more products 'Made in the USA' in the next five years."
To read more about this report, visit the EC&M website.


After making the decision to switch to a more energy-efficient method of street lighting in the spring of 2009, the City of Waukesha, Wis., applied for and received American Recovery and Reinvestment Act (ARRA) grant money to retrofit 1,200 existing streetlights with a more energy-efficient alternative. Soon thereafter, the city offered interested lighting manufacturers the opportunity to provide sample products, which were installed and monitored for energy savings and overall lighting quality for a period of six months. Ultimately, the city evaluated products from 14 different vendors.
To read more about this story, visit the EC&M website.


A wind farm servicing company is contesting six safety violations that resulted in a $378,000 fine after an employee received severe burns at a Livingston County wind farm last fall. Steve Scott, Outland Renewable Services president and COO, recently told a reporter at The Pantagraph, Bloomington, Ill., that the company notified the U.S. Department of Labor's Occupational Safety and Health Administration (OSHA) that it disagrees with the agency's findings following investigation of an incident at the Iberdrola Streator Cayuga Ridge South Wind Farm.
For more on this story, visit www.pantagraph.com.


The West Coast Energy Management Congress (EMC) will take place from June 15-16 in Long Beach, Calif. Topics for seminars include building energy simulation, energy auditing, renewable energy, and building commissioning. For more information and to register, visit www.energyevent.com.


The 57th IEEE/IAS Pulp & Paper Industry Conference is scheduled for June 19-23 in Nashville, Tenn. Tracks for technical papers to be presented include arc flash, grounding systems, adjustable speed drives, harmonics, process control, application case studies, test equipment, and standards and regulations. For more information and to register, visit the pulppaper.org.