Recently, attendees at the International Code Council's (ICC) final action hearings voted nearly unanimously to approve a package of revisions to the commercial section of the 2012 International Energy Conservation Code (IECC) that represent the largest single-step efficiency increase in the history of the national model energy code. The changes mean that new and renovated buildings constructed in jurisdictions that follow the 2012 IECC will use 30% less energy than those built to current standards. For its July cover story, EC&M would like to hear from electricians, engineers and designers on how these changes may impact your work on new and renovated buildings. If you would like to make a comment on the recent changes, contact Staff Writer Beck Ireland by phone at (913) 967-1806 or e-mail at beck.ireland@penton.com. Your comments may be used for publication in the article.


Advertisement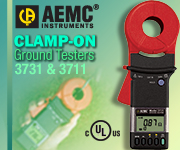 Purchase an AEMC® Clamp-On Ground Resistance Tester and receive a FREE Temperature Data Logger…

AEMC® Instruments UL approved clamp-on ground resistance testers Models 3711 and 3731 measure ground rod and small system grid resistance without the use of auxiliary ground rods. Both meters measure ground resistance from 0.01Ω to 1200Ω without disconnecting the rod under test. They also measure ground leakage current from 1mA to 30Arms. www.aemc.com
Construction employment patterns diverged across the country in April as 19 states plus Washington, D.C., added jobs over the past year even as losses deepened in others, the Associated General Contractors of America (AGC) reported in an analysis of state employment data released by the Labor Department. Association officials said the figures reflect an uneven and unsteady construction industry recovery that could be undermined by looming cost increases and public sector funding cuts.
To read more on this story, visit the EC&M website.


Rosslyn, Va.-based National Electrical Manufacturers Association (NEMA) reiterated its call for policymakers to take action to support the development of the nation's electric transmission infrastructure, in light of a new study released by WIRES, a nonprofit working group and the voice of electric transmission owners, investors, and customers in the North American energy market. Findings from the study indicate that an annual investment in new electric transmission facilities could reach $12 to $16 billion in the United States. According to the study, this would result in $30 to $40 billion in annual economic activity that could create 150,000 to 200,000 new full-time jobs in the United States in each of the next 20 years.
To read more on this story, visit EC&M's website.


According to results from Consumer Electronics Association's (CEA) ninth annual State of the Builder Technology Market Study, 78% of those surveyed say using home technology to market new homes is either "somewhat important" or "very important." In addition, 27% of builders surveyed say home technologies have helped increase revenues either "somewhat" or "greatly."
To read more on this story, visit EC&M's website.


New applications for portable fuel cell technologies continue to be realized across a host of market sectors. In recent years, fuel cell manufacturers and electronics companies and distributors have sought to demonstrate their respective technologies across these new applications in preparation for large-scale commercialization and development. While key challenges still remain for the industry, most notably issues related to cost and technology standards, Pike Research, Boulder, Colo., believes that the current period of product development will lead to commercialization for portable fuel cells at an increasingly larger scale beginning in the 2015 timeframe.
To read more on this story, visit EC&M's website.


Advertisement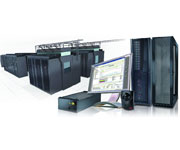 Now align your data center architecture to your business needs in just seconds.
Only APC by Schneider Electric InfraStruxure adapts quickly to your specific business needs. Whether you just acquired a new company or must increase your existing systems, you're most likely facing pressing demands on your company's IT infrastructure. Discover which physical infrastructure management tools you need to operate your data center… Download WP #104 today!
The Madison Metropolitan Sewerage District, Madison, Wis., is soliciting bids for Operations Building HVAC rehabilitation at the Nine Springs Wastewater Treatment Plant. Scope of work includes demolition of existing HVAC ducts, piping and valves, HVAC and electrical equipment. Major new HVAC equipment to be installed includes two new air handling units, an electric scroll type chiller, and a cooling tower. Pumps, piping and valves, ductwork, VAV air terminal devices, and other ancillary equipment will also be installed. Electrical work will include demolition and replacement of an MCC and a new underground power feed to the building. A mandatory pre-bid meeting is scheduled for 2 p.m. CST on June 7. Bids are due at 11 a.m. CST on June 15. The Daily Reporter.


Barnstable County, Barnstable, Mass., is seeking sealed bids on behalf of the towns of Eastham, Truro, Provincetown, and Barnstable County for on-call tradespersons for electrical maintenance and repair. For more information, visit the Barnstable County website.


A still-stalled housing recovery and concern over the pace of economic growth nationally are likely to generate only modest gains in home improvement spending this year, according to the Leading Indicator of Remodeling Activity (LIRA) released today by the Remodeling Futures Program at the Joint Center for Housing Studies of Harvard University. The LIRA projects annual growth slowing throughout the year with spending up only 0.2% in 2011.
To read more on this story, visit the EC&M website.
Independent Electrical Contractors (IEC) Chesapeake, Odenton, Md., recently celebrated the accomplishments of approximately 80 electrical apprenticeship graduates, top apprentices, instructors of the year, and much more. This year's graduation ceremony was hosted at the Marriott Inn & Conference Center (University of Maryland University College – UMUC) in Adelphi, Md., on Saturday, May 21 with more than 200 family, friends, distinguished guests, company representatives, sponsors, and staff to honor IEC Chesapeake's Class of 2011.
To read more on this story, visit the EC&M website.
Operating as an independent agency since 1991, though public housing has existed in the city since the 1930s, the Minneapolis Public Housing Authority (MPHA) owns and operates approximately 5,800 public housing units, administers more than 4,000 Section 8 vouchers, and operates two homeownership programs. As part of its ongoing renovation efforts, MPHA is always looking for ways to be more cost efficient and sustainable. This was the goal that drove the remodeling project at a high-rise senior apartment complex in 2009.
To read more on this case study, visit the EC&M website.
At the recent annual meeting for Aurora, Colo.-based Professional Electrical Apparatus Recyclers League (PEARL), members voted to expand membership to include a new Service Organization Member category. The new category applies to all electrical service companies that have a permanent facility for electrical reconditioning. Members of the service organization class have full voting member privileges and rights. In addition to a permanent reconditioning facility, service organization members must meet all other PEARL member requirements, such a minimum of $1 million in annual sales, adhere to PEARL standards and codes of business practice.
To read more on this new membership category, visit the EC&M website.


The IEEE Standards Association (IEEE-SA) recently announced that the 2012 edition of the National Electrical Safety Code (NESC) is now available for pre-order online prior to publication in August 2011.
Published exclusively by IEEE, the NESC sets the ground rules for practical safeguarding of persons during the installation, operation, or maintenance of electric supply and communication lines and associated equipment. The NESC contains the basic provisions that are considered necessary for the safety of employees and the public under the specified conditions.
Pre-order the following products online:
The National Society of Professional Engineers (NSPE) will hold its annual meeting at the JW Marriott Las Vegas Resort & Spa at Summerlin July 13–17. State and national leaders will participate Friday in a two-day NSPE National & State Leader Conference in which participants will earn up to 10 PDHs. On Saturday, the NSPE House of Delegates Assembly, will meet in the morning. NSPE 2011–12 President Christopher Stone, P.E., F.NSPE, and his Board of Directors/House of Delegates will be installed during a luncheon ceremony, followed by keynote speaker Dave Carey with his presentation on "The Ways We Choose: Lessons for Leaders from a POW's Experience." During the afternoon, the NSPE 2010-11 and 2011-12 boards will hold a joint session. For more information and to register, visit the organization's website.