Conduit sizing, solar site assessment, Code changes, and bend calculations. These are just a few of the smart phone apps for use on the construction site. If you are you an electrical contractor who regularly uses apps in the field, EC&M wants to hear from you for its July issue. Please contact Staff Writer Beck Ireland by phone at (913) 967-1806 or e-mail at beck.ireland@penton.com. Your comments may be used for publication in the article.


Advertisement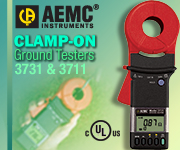 Purchase an AEMC® Clamp-On Ground Resistance Tester and receive a FREE Temperature Data Logger…

AEMC® Instruments UL approved clamp-on ground resistance testers Models 3711 and 3731 measure ground rod and small system grid resistance without the use of auxiliary ground rods. Both meters measure ground resistance from 0.01Ω to 1200Ω without disconnecting the rod under test. They also measure ground leakage current from 1mA to 30Arms. www.aemc.com
Almost two-thirds of architects surveyed by the American Institute of Architects (AIA), New York, report that they have at least one project that is stalled due to lack of financing, despite record low interest rates. The survey of April business activity was taken as part of the AIA's Architectural Billings Index (ABI), a leading monthly economic indicator of construction activity that provides a nine- to 12-month glimpse into the future of nonresidential construction spending activity. Of the 63% of firms surveyed with stalled projects, the average value of each project was almost $50 million per firm.
To read more on this story, visit EC&M's website.


The U.S. construction industry added 2,000 jobs in May, according to the June 3 employment report by the U.S. Bureau of Labor Statistics. Year over year, seasonally adjusted construction employment was unchanged. Non-seasonally adjusted construction unemployment stood at 16.3% for the month, down from 17.8% in April and 20.1% from the same time last year.
To read more on this story, visit EC&M's website.


Construction spending inched up for the second straight month in April (0.4%) — following downward revisions to the March spending figures — thanks to increases in private nonresidential and home-improvement spending, the Associated General Contractors of America reported recently in an analysis of new U.S. Census Bureau data. Association officials noted, however, that the gains were tempered by sluggish homebuilding and declining levels of public investment in construction.
To read more on this story, visit EC&M's website.


During a recent national online news conference, Associated Builders and Contractors (ABC) Chief Economist Anirban Basu said that the nation's construction industry recovery may be two years away. "From what we've seen so far in 2011, nonresidential construction will likely be further delayed," said Basu. "Right now, what will happen in 2012 remains unclear.
To read more on this story, visit EC&M's website.


Advertisement
Coming soon, electricians will experience an optimal balance of protection, dexterity and comfort. This means a glove that doesn't feel like you're wearing one; one that can handle small wires and parts and is breathable enough to wear all day; one that offers the cut and abrasion resistance to protect from punctures, cuts and scrapes. Sign up today to be the first know when these gloves arrive.
The City of Alameda, Calif., is requesting bids for the removal and replacement of LED signals for traffic and pedestrian signal heads/indicators in the City of Alameda. The city desires to obtain the services of an outside organization to perform this service. The plans and specifications can be obtained at the Public Works Department, 950 W. Mall Square, Room 110, or by calling (510) 747-7930. Deadline for bids is 2 p.m. PST on June 21. For more information, visit the city's website.


The Air Force is soliciting bids for approximately $100,000 to $250,000 of electrical repair work at the Malmstrom Air Force Base (AFB) Missile Complex in Malmstrom, Mont. Work includes the installation of electrical pumps at 15 MAF sewage lagoons, trenching, conduit and wire installation, circuit breakers and weather-resistant box installation. The request for proposal will be available on or around June 20 and close on July 19. Potential contractors must also be currently registered with the Online Representations and Certifications Application (ORCA). The primary contact on this project is Jaysen K. Cortez, contract specialist, available via email at jaysen.cortez@malmstrom.af.mil or by phone at (406) 731-4004. For more information, visit the FedBizOpps.gov website.


Typically, when facilities undergo a complete wiring devices audit, the main goal is to provide a safe and productive work environment. Electrically unsafe conditions can contribute to workplace injuries, manufacturing downtime, and loss of productivity. Faulty electrical wiring and devices are consistently among the top OSHA-cited infractions and are a leading cause of workplace hazards. A proactive and ongoing review of the quality and service of a facility's wiring devices can enable cost-effective upgrades that will improve safety and productivity while reducing downtime. For Crown Candy Corp., an 85-year-old candy manufacturer in Macon, Ga., these were all competitive necessities that prompted the company to seek a professional audit of its electrical infrastructure from the Arrow Hart Engineering team at Cooper Wiring Devices, headquartered in Peachtree City, Ga.
For more on this report, visit the EC&M website.


Faith Technologies employees Kevin Quinn and Kyle Meise recently passed the exam to be awarded their certification from the North American Board of Certified Energy Practitioners (NABCEP) in solar photovoltaic (PV) and solar thermal installation. The certification distinguishes the men as knowledgeable leaders in the fields of renewable and sustainable energy and assures the public of a commitment to continued professional training, education and an adherence to ethical practices.
For more on this story, visit the EC&M website.


The majority of consumers would consider buying a plug-in electric vehicle (PEV) for their next car purchase, according to a global study by Accenture. However, an accompanying report concludes that consumer preferences for charging PEVs could increase the cost and complexity of managing the electricity grid and charging infrastructure. "Plug-in Electric Vehicles: Changing Perceptions, Hedging Bets", a study of more than 7,000 people in 13 countries, found that 60% of consumers would consider buying a PEV for their next car purchase. Furthermore, 68% would probably or certainly do so within the next three years (23% certainly, 45% probably). Respondents in China are by far the most enthusiastic, with 96% of them probably or certainly considering a purchase in the next three years.
For more on this report, visit the EC&M website.


While many consumers turn lights off, shop for energy-efficient devices, and practice other eco-friendly practices, just 10.2 million of 119 million U.S. households are estimated to have enrolled in electricity management programs. Utility companies, the study found, are in the best position to raise awareness of these programs to boost consumers' understanding of energy consumption. Currently, energy management systems allow consumers to control their home air conditioning and heating units through a programmable display. In the future, a smart grid would enable consumers to adjust home cooling and heating systems with a smart phone, run their dishwashers at times of low energy costs, or control home appliances remotely, among other applications. Consumer Electronics Association (CEA) member companies, including utilities and manufacturers of smart grid electronics, are advancing the deployment of smart grid systems across the country through CEA's new Smart Grid Working Group.
For more on this report, visit the EC&M website.


The Occupational Safety and Health Administration (OSHA) is announcing the launch of a survey of private sector employers on current safety and health practices. This survey will allow OSHA to better design future rules, compliance assistance and outreach efforts.
The survey, which may contact as many as 19,000 employers nationwide, will ask questions about employers' current practices with regard to safety and health management in their workplaces. For example, the survey will ask employers if they already have a safety management system, whether they perform annual inspections, who manages safety at their establishment, and what kinds of hazards they encounter at their facilities. Participation in the survey is voluntary.
Respondents will receive a paper copy of the survey which they can fill out and return to OSHA's contractor, Eastern Research Group (ERG), or alternatively respondents can answer the survey's question at a website. Survey results without employer identities, will be provided by ERG to the Agency. The survey will contact private sector employers across all industries under OSHA jurisdiction and is designed to solicit responses from employers of all sizes.
The surveys will be mailed to employers beginning on May 10 and the agency expects the data collection phase to be completed by August. The agency published a notice of its intent to conduct the survey in the Federal Register August 12, 2010. Following a 60-day comment period, as required by the Regulatory Flexibility Act, the agency published a second Federal Register notice for comment to OMB on Nov. 3, 2010. The Agency received clearance from OMB to conduct the survey on March 16. The clearance was published in the Federal Register on April 6, 2011. The survey was pre-tested with a sample of employers in April.
The formal name of the survey is "Baseline Survey of Safety and Health Practices." ERG is using the name "OSHA National Survey of Safety and Health Practices" on the web page. The docket, including a copy of the survey and the clearance paperwork can be found at www.regulations.gov.
The 2011 IEEE Power & Energy Society General Meeting will be held from July 24-28 in Detroit. The theme of the meeting is "The Electrification of Transportation & the Grid of the Future." Five super sessions — Reincarnation and Evolution of the Electric Vehicle, Smart Grid, Wind Power & Photovoltaic, Energy Storage, and Energy and the Environment — are open to all attendees, as are myriad technical sessions, committee meetings and a variety of networking events. Tutorials and other special classes and courses may be attended for an additional fee. For more information and to register, visit the PES website.