For the October issue, EC&M is collecting stories of power quality issues and how they were resolved. If you worked on particularly tough projects involving voltage sags, spikes, electrical noise, or harmonic distortion, etc., we want to hear from you. Contact Staff Writer Beck Ireland by phone at (913) 967-1806 or by e-mail at beck.ireland@penton.com. Your comments may be used for publication in the article.


Advertisement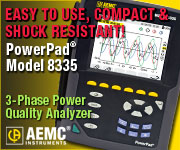 AEMC® introduces our Newest PowerPad® Model 8335 Power Quality Analyzer
The Model 8335 is a three-phase power quality analyzer that is easy-to-use, compact and shock resistant. It has direct measurement of four voltage and four current inputs including neutral voltage and current. It captures and records trend, transients, events and waveforms simultaneously with 2GB of memory for data storage. Visit: www.aemc.com.
Construction employment remained mired in a five-year slump as the industry shed another 9,000 jobs from May to June, according to an analysis of new federal employment data released today by the Associated General Contractors of America. Association officials said that declines in public sector construction activity will negate any pickup in private sector demand unless Congress and states promptly and fully fund needed infrastructure spending and streamline the approval process for public projects.
To read more on this story, visit EC&M's website.


The very sour national jobs report for June included only 57,000 new private jobs, a loss of 39,000 government jobs, and a 44,000 cut in previous estimates of April and May jobs, according to Jim Haughey, chief economist for Reed Construction Data, Norcross, Ga. Sixty percent of the new private jobs were in the very low-paying leisure and hospitality industry. Temporary service jobs dropped 10,000. 17,400 jobs were cut in the usually steady education sector. Public sector layoffs will continue into 2012 as the stimulus funds used to retain public jobs are exhausted. The June employment report is much more pessimistic than the slim job gain.
To read more on this story, visit EC&M's website.


Despite the challenging market conditions for the global wind energy industry, this is a dynamic time for innovation in the market as companies are pushing turbines to sizes never before thought practical or economical. Some of the world's top engineering challenges of the 21st century are taking place in factories longer than football fields. But there is also much at stake as the companies push limits and take major risks in an increasingly competitive sector.
To read more on this story, visit EC&M's website.


The Emerge Alliance, an open industry association leading the rapid adoption of safe direct-current (DC) power distribution standards for commercial buildings, recently announced a new wave of organizations joining the Alliance. The newest members of the EMerge Alliance include:
GE Energy, Participating Member
Intel Corporation, Participating Member
Universal Electric Corporation, Starline DC Solutions, Participating Member
PulseStar Technologies, Participating Member (upgrade)
Power-One, General Member
NextEnergy Center, Corresponding Member
Dynamic Supplier Alignment, Supporting Member
To read more on this story, visit EC&M's website.


Advertisement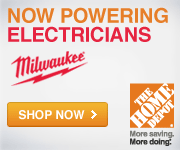 Introducing the Milwaukee® line of test and measurement products. Designed by Pros, with the performance you need and a price that makes adding it to your tool arsenal surprisingly affordable. Work faster. Better. Smarter. We're the only home improvement retailer who's got them. That's the power of The Home Depot.
The West Virginia Higher Education Policy Commission, Charleston, W.V., is seeking proposals for maintenance, troubleshooting, switching (emergency and non-emergency), and management of system records and drawings for the electrical distribution system at West Virginia Education, Research, and Technology Park for a five year period. Proposals will be received until 3 p.m. EST on August 4. For more information, visit the the commission's website.


Allegheny County Department of Economic Development, Pittsburgh, Pa., is preparing to release a request for bids for electrical upgrades to the Shuman Center generator. Bidding will take place in the next three months. For more information, visit the Minority, Women and Disadvantaged Business Enterprises (MWDBE) Governmental Committee website.


San Jose, Calif.-based Cupertino Electric, Inc. (CEI), recently announced that the Thunder Valley Casino, whose electrical infrastructure was built by CEI, will receive the Four Diamond Award from AAA in 2012. The new, high-rise, 294-room hotel at the casino was deemed Four-Diamond worthy by AAA based on a variety of criteria, including guest services and amenities.
To read more on this story, visit the EC&M website.


The U.S. Department of Energy (DOE) has published an updated version of the guide, "LED Luminaire Lifetime: Recommendations for Testing and Reporting." Developed by a working group under the auspices of DOE and the Next Generation Lighting Industry Alliance, the publication is available in PDF format on the DOE website.
To read more on this story, visit the EC& website.


The U.S. Occupational Safety and Health Administration (OSHA) recently issued fines totaling $354,000 to P Gioioso & Sons, Hyde Park, Mass., for exposing its employees to cave-in hazards at work sites in Cambridge and Framingham, both in Massachusetts. The general contractor, which primarily engages in the construction of underground water and sewer mains, had already been cited seven times since 2000 for repeat violations of OSHA's trenching and excavation safety standards.
OSHA has cited P Gioioso & Sons Inc. for four willful violations. The contractor also has been cited for five serious violations. Finally, P Gioioso & Sons has been issued three repeat citations with $42,000 in fines for trenching and electrical hazards at the Framingham work site. The company has 15 business days from receipt of its citations and proposed penalties to comply, meet with OSHA's area director, or contest the findings before the independent Occupational Safety and Health Review Commission.