The broad economic slowdown of recent months continued to affect the electrical manufacturing sector in July. Forty-four percent of respondents to the National Electrical Manufacturers Association's (NEMA) latest Electroindustry Business Confidence Survey reported that the economic environment facing the industry in North America deteriorated in the most recent month, up from 36% in June. Only 8% reported conditions were better than a month ago in July, down from 27% in June. The Electroindustry Business Confidence Index (EBCI) for current North American conditions thus dropped to 32 from 45.5 a month ago, remaining below the growth threshold of 50 points for a second straight month.
To read more on this story, visit EC&M's website.


Advertisement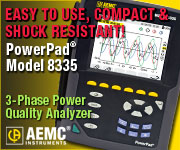 AEMC® introduces our Newest PowerPad® Model 8335 Power Quality Analyzer
The Model 8335 is a three-phase power quality analyzer that is easy-to-use, compact and shock resistant. It has direct measurement of four voltage and four current inputs including neutral voltage and current. It captures and records trend, transients, events and waveforms simultaneously with 2GB of memory for data storage. Visit: www.aemc.com.
A multitude of factors are preventing a recovery for the beleaguered design and construction industry. Lenders that have been extremely reticent to finance construction projects, budget shortfalls at all levels of government, the ripple effect of overbuilding, a depressed housing market, and rising costs of key construction commodities are all contributing to what projects to be a decline of 5.6% in spending this year for nonresidential construction projects. The American Institute of Architects (AIA) semi-annual Consensus Construction Forecast, a survey of the nation's leading construction forecasters, also projects a 6.4% increase of spending in 2012.
To read more on this story, visit EC&M's website.


A new white paper by the Institute for Electric Efficiency (IEE) shows that for a wide variety of utilities under a range of realistic assumptions, the customer and utility benefits of investing in digital smart meters, or advanced metering infrastructure (AMI), and associated energy management technologies will outweigh the costs. "Although specific results will vary by utility, our study found that even with conservative assumptions regarding consumer engagement in technology, programs, and rate plans, utilities and their customers can expect positive net benefits from their AMI investment over the next 20 years," said Lisa Wood, IEE executive director.
To read more on this story, visit EC&M's website.


Building on a long-established working relationship, ASHRAE and the U.S. Department of Energy (DOE) recently signed an updated memorandum of understanding (MOU), committing to further improve efficient use of energy. The agreement was signed at ASHRAE's 2011 Annual Conference in Montreal in June. It represents an update of an agreement signed in 2007.
To read more on this story, visit EC&M's website.


Advertisement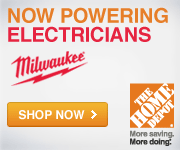 Introducing the Milwaukee® line of test and measurement products. Designed by Pros, with the performance you need and a price that makes adding it to your tool arsenal surprisingly affordable. Work faster. Better. Smarter. We're the only home improvement retailer who's got them. That's the power of The Home Depot.
Lipan Independent School District, Lipan, Texas, is currently accepting sealed bids for electrical and fire alarm for Phase 2, Intermediate School. Bids will be received at the office of the Lipan ISD Superintendent until 4 p.m. on August 4. For more information, contact the construction manager, Bob Schumacher by phone at (817) 366-6045 or by email at bob@sundayhaus.com for information to obtain contract documents.


The Wayne County Airport Authority, Detroit, is soliciting bids for the construction of Taxiway Delta electrical improvements at Willow Run Airport. This project includes the relocation of the taxiway edge lights to meet the current Federal Aviation Administration (FAA) requirements. The pre-bid meeting is scheduled for 2 p.m. EST on August 4. Bid deadline is 2 p.m. EST on August 19. For more information, visit the the airport authority's website.


Advertisement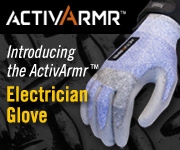 Professional electricians told Ansell what they needed, and Ansell has delivered. From wiring boxes to pulling cable, the ActivArmr™ Electrician glove delivers breathable, second-skin dexterity while providing protection against wire punctures, cuts and abrasions. With its patented knit and palm coating, the ActivArmr™ Electrician glove provides ten times the wear of standard leather gloves.
When a fast-growing composites manufacturer in Pennsylvania experienced persistent power problems, the answers were not easy to find. For years, the plant had been plagued by disruptive and dangerous electrical problems that blew fuses/amplifiers and burned circuit boards on equipment across the plant. The anomalies came very fast. In fact, by the time the plant's electrical engineers became aware of them, tracing the cause was next to impossible.
To read about how Dan Claxton, plant maintenance supervisor at the facility, solved the problem, visit the EC&M website.


Despite a loss of 9,000 jobs in June, the construction industry unemployment rate dropped to 15.6% — the lowest level since December 2008 — according to the July 8 employment report by the U.S. Labor Department. Meanwhile, the construction industry has added 2,000 jobs compared to the same time last year.
To read more on this story, visit the EC&M website.


The most-commonly used four-foot, eight-foot, and two-foot (U-shaped) T12 fluorescent lamps will begin disappearing from distributors' and retailers' shelves in less than one year. The targeted lamps fail to meet efficiency standards that will go into effect July 1, 2012, the National Lighting Bureau (NLB) reports.
To read more on this story, visit the EC&M website.


DLR Group is designing a photovoltaic (PV) array at FedExField, the Landover, Md.-based home of the Washington Redskins, that will generate up to 2MW of electricity. The solar power system is being designed for NRG Energy as a key component of the energy company's partnership with the Redskins.
To read more on this story, visit the EC&M website.


A construction worker died following an accident at College of Coastal Georgia, Brunswick, Ga. According to Clynn County coroner Jimmy Durden, John Thomas Orr,32, of Jacksonville, Fla., fell from a ladder, possibly as the result of an electrical shock, and died around 11:45 a.m. Wednesday at Southeast Georgia Health System's Brunswick hospital.
Durden said a preliminary investigation showed Orr, who worked for a subcontractor, was on a ladder to turn on a piece of machinery. Campus police and the U.S. Occupational Safety and Health Administration (OSHA) are investigating.