The amount contractors pay for a range of key construction materials declined in August, but contractors continue to be squeezed as materials cost increases have outstripped the price of finished buildings over the past year, according to an analysis of producer price index figures released recently by the Associated General Contractors of America (AGC), Arlington, Va. "The disparity between contractors' materials costs and their selling prices threatens to push some firms and their hard-pressed workers out of business," said Ken Simonson, the association's chief economist. "Contractors just aren't catching any breaks when it comes to current market conditions."
To read more on this story, visit EC&M's website.


Advertisement
AEMC® introduces Dual Display Clamp-on Meters Models 670 & 675
AEMC®'s Models 670 and 675 are True RMS dual display clamp-on meters that provide RMS measurements for today's non-linear electrical environments. These meters are designed to measure and display amps and volts at the same time. The tapered and hooked jaw design facilitates maneuvering in crowded wiring and breaker panels, making it easy to select conductors. Visit: www.aemc.com.

Bernard M. Markstein, Reed Construction Data's chief economist, recently offered a revised prediction, which includes a recession scenario, for the firm's economic forecast. "In our recession scenario, the current (third) quarter is subpar, with growth barely above zero," Markstein writes. "The next four quarters then exhibit decline, with the first and second quarters of 2012 down the most. Fourth quarter 2012 is mildly positive, with stronger growth in 2013."
To read more on this story, visit EC&M's website.


Citing its commitment to improving the regulatory environment for the planning, development, siting, and construction of transmission infrastructure, the National Electrical Manufacturers Association (NEMA) weighed in at the U.S. Department of Energy (DOE) in support of the transfer from DOE to the Federal Energy Regulatory Commission (FERC) of certain directives regarding transmission corridors authorized under the Energy Policy Act of 2005 (EPAct05). In a letter to DOE, NEMA offered its support for a draft proposal that would put into a single agency all EPAct05 authorities related to improving interstate transmission infrastructure in the most congested areas of the country.
To read more on this story, visit EC&M's website.


Electric vehicles (EVs) are being delivered by the thousands each month. The power delivery infrastructure that enables vehicles to charge at home, at the workplace, and in public spaces is simultaneously being rolled out. A new report from Boulder, Colo.-based Pike Research forecasts that by 2017 more than 1.5 million locations to charge vehicles will be available in the United States, with a total of 7.7 million locations worldwide. The cleantech market intelligence firm anticipates that increasing demand for charge points will be driven in part by a rapid decline in electric vehicle supply equipment (EVSE) prices, which will require manufacturers to adapt their business models as volumes continue to increase.
To read more on this story, visit EC&M's website.


Advertisement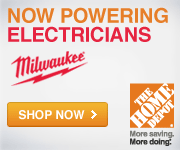 Introducing the Milwaukee® line of test and measurement products. Designed by Pros, with the performance you need and a price that makes adding it to your tool arsenal surprisingly affordable. Work faster. Better. Smarter. We're the only home improvement retailer who's got them. That's the power of The Home Depot.
Northern Maine Community College, Presque Isle, Maine, is seeking bids for electrical and other work required for the installation of a new biomass boiler, pellet storage silo, interconnecting piping, controls, and appurtenances to complete the installation of the new biomass system. The work to be performed under this contract shall be completed on or before April 30, 2012. The deadline for bids is September 21. For more information, visit The Portland Press Herald classifieds.


The Port Authority of New York and New Jersey is soliciting bids for relocating and replacing electrical circuits into electrical conduits and abandoning embedded conduits and related work at the runway decks and the vicinities thereof at LaGuardia Airport, Queens, N.Y. Bids are due at 2:30 p.m. EST on October 18. For more information, visit the Port Authority's website.


Advertisement

STARLINE® Critical Power Monitor (CPM) offers an enhanced monitoring package that allows monitoring, integrating and displaying of more data center power information easily and reliably. With revenue grade accuracy, display options, multiple paramaters, fast set-up, and low costs, CPM is uniquely designed to provide the functionality required for busway applications.
The restoration of Winn-Dixie's New Orleans East Store, built as a prototype store to showcase all of its latest design concepts, includes a low-profile addition: a 600kW diesel generator from Cummins Power Generation that is capable of providing electricity to the entire store in the event of a power outage. The unit comes complete with automatic transfer switches (ATSs) and a 3,600-gal sub-base fuel tank. The standby generator, which features a PowerCommand iWatchTM wireless monitoring system that links the generator set with cellular and satellite networks, sits atop an 8-ft-high, flood-protected platform.
To read more on this story, visit the EC&M website.


Independent Electrical Contractors (IEC) Chesapeake welcomes North American Board of Certified Energy Practitioners (NABCEP) as its newest partner member. NABCEP's executive director, Ezra Auerbach said, "We are pleased to become a partner member of IEC Chesapeake because we see its commitment to providing training to electrical workers as very compatible with our mission to improve installation standards in the PV industry."
To read more on this story, visit the EC&M website.


The Illuminating Engineering Society of North America (IES) announces a new document on the commissioning process: DG-29-11, "Design Guide for The Commissioning Process Applied to Lighting and Control Systems." The document describes the technical requirements for commissioning lighting and control systems to achieve owner performance criteria in new construction.
To read more on this story, visit the EC&M website.


The Solar Decathlon, which will be held at the National Mall's West Potomac Park in Washington, D.C., from Sept. 23 to Oct. 2, is an award-winning program that challenges 20 collegiate teams to design, build, and operate solar-powered houses that are cost-effective, energy-efficient and visually appealing. The winner of the competition is the team that best blends affordability, consumer appeal and design excellence with optimal energy production and maximum efficiency.
To read more on this story, visit the EC&M website.


James Hussey, 38, died from electrocution around 9:30 a.m. on September 13 working with a charged line at Doneen Gravel Pit near Colfax, Wash. Hussey, of Peck, Idaho, was transferring the generator electrical lines with other DeAtley Crushing Service, Lewiston, Idaho, employees when he came in contact with a live line. A medical helicopter responded, and Hussey was pronounced dead at the scene by officials from Spokane Trauma Centers. Officers said the Whitman County Coroner's Office and the Mining Safety and Health Administration are investigating the incident.


The 54th Annual IEC National Convention & Electrical Expo will take place from October 11-14 in Louisville, Ky. Topics for training sessions at this year's event include electrical theory, Code, motor control, blueprint reading, and leadership and supervision. For more information, and to register, visit the IEC website.


The Electrical Association of Philadelphia will present its Electric Expo 2011 from October 12-13 in King of Prussia, Pa. Topics for seminars include sustainability, safe facilities, lighting, and the NEC. For more information and to register, visit the event's website.


Solar Power International is scheduled for October 17-20 in Dallas. Topics for sessions include finance strategies and policy changes and technology. For more information and to register, visit the Solar Power International website.