For the October issue, EC&M will discuss change orders. Is it the sole responsibility of the design engineer to provide adequate information for estimators? Does the statement of a complete system put the burden of any changes on the electrical contractor? If you have experience in the legal issues of change orders and would like your statements to be included in the article, contact Staff Writer Beck Ireland by phone at (913) 967-1806 or e-mail at beck.ireland@penton.com.


Advertisement
AEMC® introduces Dual Display Clamp-on Meters Models 670 & 675
AEMC®'s Models 670 and 675 are True RMS dual display clamp-on meters that provide RMS measurements for today's non-linear electrical environments. These meters are designed to measure and display amps and volts at the same time. The tapered and hooked jaw design facilitates maneuvering in crowded wiring and breaker panels, making it easy to select conductors. Visit: www.aemc.com.

The Illuminating Engineering Society of North America (IES) recently introduced a new document, TM-21-11, "Projecting Long Term Lumen Maintenance of LED Light Sources." The document recommends a method for projecting the lumen maintenance of LED light sources from the data obtained by the procedures found in IES document LM-80-08, "Approved Method for Measuring Lumen Maintenance of LED Light Sources."
To read more on this story, visit EC&M's website.


SolarTech, a non-profit industry collaborative driving six initiatives to streamline the growth and acceleration of solar in the United States, announced recently the release of the first edition of a Microinverter and AC Module Application Guide. Existing codes and standards can be confusing as new disruptive technologies enter the existing construction world. This guide is targeted at installers, building officials, and fire officials to assist in the rapid adoption of these new technologies.
To read more on this story, visit EC&M's website.


Expansion of the worldwide uninterruptible power supply (UPS) market is driven by the growing need to protect sensitive electronic devices from grid power quality instability as well as by the decreasing acceptance of downtime. In addition, more IT infrastructure is moving into the data center with higher standards for computing and data storage reliability and protection. According to a new report from Pike Research, "Next Generation Uninterruptible Power Supplies," these trends, along with significant growth in emerging economies, will cause the global UPS market to expand from $7.2 billion in 2010 to $8.2 billion in 2011, a growth rate of 12.2%.
To read more on this story, visit EC&M's website.


A new survey by the Institute for Electric Efficiency (IEE) shows that more than one-in-five households now have a two-way communicating digital electric meter, and that by 2015, more than half of the homes in the country will have one of the new smart meters. The IEE survey polled its member electric utility companies, who serve approximately 70% of the nation's households, along with a number of large public power utilities and some rural electric cooperatives. The IEE survey focused on the current status of the respondents' smart meter installations, as well as their planned and proposed deployments.
To read more on this story, visit EC&M's website.


Advertisement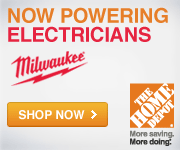 Introducing the Milwaukee® line of test and measurement products. Designed by Pros, with the performance you need and a price that makes adding it to your tool arsenal surprisingly affordable. Work faster. Better. Smarter. We're the only home improvement retailer who's got them. That's the power of The Home Depot.
The City of Mount Vernon, Wash. is seeking bids for the design and installation of a solar array project. The work to be performed under this contract shall include electrical design and installation of the solar array components, including grid tie and production meters, connections to the city network, and other work. A pre-bid meeting is scheduled for 10 a.m. PST on October 4. Bids are due by 10 a.m. PST on October 11. Questions regarding this project may be directed to the Public Works Department at (360) 336-6204.


The Fountain Lake School District, Hot Springs, Ark., is accepting bids for the electrical package for the construction of tornado-safe rooms. Contractors to comply with all FEMA guidelines and regulations. Bids will be received until 2 p.m. CST on October 11. Questions regarding this project may be directed to Deb Harris at Nabholz Construction at (501) 505-5109.


Advertisement
STARLINE® Critical Power Monitor (CPM) offers an enhanced monitoring package that allows monitoring, integrating and displaying of more data center power information easily and reliably. With revenue grade accuracy, display options, multiple paramaters, fast set-up, and low costs, CPM is uniquely designed to provide the functionality required for busway applications.
ENR California has named Rosendin Electric Specialty Contractor of the Year in California. Rosendin Electric, the nation's largest private electrical contractor and a 100% employee-owned company, was singled out for its financial and geographic growth and ongoing commitment to community involvement.
To read more on this story, visit the EC&M website.


IEEE recently announced the launch of its newly redesigned Smart Grid Web Portal, which has served as an essential destination for Smart Grid-related information since its initial debut in January 2010. Also available on the Portal at this time is the September edition of the IEEE Smart Grid Newsletter, a popular publication that features educational articles by IEEE smart grid innovators, architects and implementers from around the world.
To read more on this story, visit the EC&M website.


NEMA's Electroindustry Business Confidence Index (EBCI) indicated that conditions facing the North American electroindustry stabilized in September, after signaling deterioration in each of the three previous months. Just as many survey panelists – 20% – reported conditions improved from August to September as reported conditions worsened. The rest of the panel – 60% – reported conditions were unchanged. A month ago nearly 21% reported an improvement against about 38% reporting a decline. Thus, the EBCI for current North American conditions climbed nearly 9 from August to reach 50 in September.
To read more on this story, visit the EC&M website.


NEMA's shipment index for incandescent lamps increased for the second consecutive quarter in Q2 2011, showing an improvement of 5.6% over the same period last year. Conversely, the index for CFLs declined for the fifth consecutive quarter. Moreover, the rate of decline in the shipments index accelerated to 18.5 % on a year-over-year basis (y/y) versus 16.8 % y/y and 8.7% y/y during Q1 2011 and Q4 2010, respectively.
To read more on this story, visit the EC&M website.


The Occupational Safety and Health Administration (OSHA) has issued a hazard alert, warning workers and employers of the dangers of using certain Eaton/Cutler-Hammer molded-case circuit breakers that were incorrectly rebuilt. The third-party rebuilder may have altered the circuit breakers — identified by model numbers E2K and E2KM — by using incorrect parts that can cause the breakers to malfunction. The breakers were originally manufactured by Eaton/Cutler-Hammer as part of its E2 mining series breakers. At this time, the number of incorrectly rebuilt E2K and E2KM breakers or their locations are not known. The circuit breakers may appear to be new or properly rebuilt, but the third party rebuilder changed them from the manufacturer's original design.
For more information, visit the OSHA website.


The Pulp & Paper Industry Committee is soliciting technical papers for its 2012 Technical Conference to be held from June 17-21, 2012, in Portland, Ore. All papers presented will be published in the conference record and subjected to a thorough peer review as well as being evaluated for subsequent publication in either the IEEE Transactions on Industry Applications or Industry Applications Magazine. Prospective authors must register and attend the conference to present their papers.
Paper topics should be aligned with the scope of the PPIC Technical Subcommittees:
Process Control, Engineering, Maintenance, and Construction Subcommittee (PCEMC): Issues related to process control systems, the organization and administration of engineering, maintenance, and construction practices in the industry.
Power Distribution Systems Subcommittee (PDS): The distribution of electrical power within pulp and paper mills and associated facilities.
Drives and Controls Subcommittee (DCS): Topics on application of adjustable and constant speed motors & drives and other motor control or computer based control systems within the industry.
Training, Safety, Standards, and Codes Subcommittee (TSSC): Issues on training and liaison with standards and codes making bodies in the electrical field as related to the pulp, paper and wood products industry.
Interested authors are encouraged to submit an abstract or, preferably, a rough draft of their paper for review by the appropriate subcommittee. Upon acceptance of a topic, a paper sponsor and formal reviewers will be assigned. Draft papers should be submitted electronically (preferably as e-mail attachments) along with an indication of the appropriate subcommittee to Alex Wu, program chair 2010, Global Engineering Co., at alexwu@ieee.org by October 17. For more information, visit pulppaper.org.


The Cement Industry Committee is soliciting abstracts for the 54th annual IEEE-IAS/PCA Cement Industry Technical Conference scheduled for May 13-17, 2012, in San Antonio, Texas. Authors are encouraged to develop papers related to the following main topic areas of the technical program:
Automation
Drives and related products
Environmental, energy, and sustainability
General practices (manufacturing and process — quarry through distribution)
Maintenance and safety
Power generation and distribution
Papers are selected on the basis of interest to the conference attendees and applicability to the cement industry. Papers that address critical issues facing the cement industry and that pose unique and innovative solutions are especially invited. The technical conference is also interested in hearing related issues from other process industries in an attempt to learn and improve the cement industry.

Interested parties should submit an abstract of 200 words or less to Ted Richardson, at tkrichardson@edg.net by September 30, 2012. For more detailed information, please refer to the conference website at www.ieeepcaconference.org.


The American Council of Engineering Companies (ACEC) 2011 Fall Conference is scheduled for October 19-22 in Las Vegas. Topics for educational sessions include engineering in the cloud, retention and recruitment, and Building Information Modeling (BIM), and risk management. For more information and to register, visit www.acec.org.


NECA 2011 will take place from October 22-25 in San Diego. Technical workshops include "Workplace Efficiency and Safety," "Implementing Lighting Management Technologies & Practices to Drive Building Efficiencies," and "Arc Flash Mitigation & NEC Code and Compliance." For more information and to register, visit www.necaconvention.org.


2011 LightShow/West is scheduled for October 26-27 in Las Vegas. Topics for seminar's at this year's event include integrated building technology, LED fundamentals for street and area lighting, lighting controls and Title 24, and office lighting breakthroughs. For more information and to register, visit www.lightshowwest.com.