The American Institute of Architects (AIA) recently announced that it has launched an online database that will let developers and architects network with investors interested in lending to projects that have been stalled primarily due to lack of financing. The AIA designed the database to help address one of the persistent impediments facing the design and construction sector, which accounts for $1 in $9 of U.S. Gross Domestic Product, according to the U.S. Census Bureau. Each $1 million in new construction spending supports 28.5 full-time, year-round-equivalent jobs, according to a study by George Mason University economist Stephen J. Fuller.
To read more on this story, visit EC&M's website.


Advertisement
AEMC®'s New data logger, the Simple Logger® II Model ML914


The Simple Logger® II Model ML914 is a 4-channel AC current recording device powered by alkaline batteries and includes four integral 6" MiniFlex® flexible current probes. The main advantage of the logger is its ability to perform a variety of recording tasks with easy and intuitive setup from a computer using DataView® software. www.aemc.com
The National Electrical Manufacturers Association (NEMA), on behalf of its Energy Storage Council, today endorsed legislation that will spur the deployment of cutting-edge energy storage technologies. Senators Ron Wyden (D-OR), Jeff Bingaman (D-NM), and Susan Collins (R-ME) introduced The Storage Technology for Renewable and Green Energy (STORAGE) Act of 2011 (S 1845), a set of investment tax credits to promote adoption of the spectrum of energy storage technologies. Batteries, flywheels, superconducting magnetic energy storage, and other technologies would all be eligible under the legislation.
To read more on this story, visit EC&M's website.


Growing investments in distributed energy resources — renewable distributed energy generation, demand response (DR), energy storage, and plug-in electric vehicles (PEVs) — will require new business and technology platforms to manage the increased level of diversity and complexity, according to Pike Research. The increasing variability of both generation (from solar and wind) and loads (due to DR and PEVs) will also require more sophisticated and decentralized decision making. As a result of all of these factors, interest in virtual power plants (VPPs) is gaining significant momentum within the industry.
To read more on this story, visit EC&M's website.


A new survey of energy industry experts reveals a surprising consensus on the size of the energy efficiency resource. Overall, energy efficiency is expected to lower electricity consumption by 5% to 15%, and natural gas consumption by 5% to 10%. These results debunk the notion that conservation is a fad. On the contrary, they herald a new beginning for energy efficiency. Ahmad Faruqui and Doug Mitarotonda discuss the history of conservation movements and the new survey at spark.fortnightly.com.
To read more on this story, visit EC&M's website.


Advertisement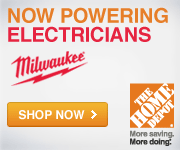 Introducing the Milwaukee® line of test and measurement products. Designed by Pros, with the performance you need and a price that makes adding it to your tool arsenal surprisingly affordable. Work faster. Better. Smarter. We're the only home improvement retailer who's got them. That's the power of The Home Depot.
The City of Santee, Calif., is requesting bids for as-needed electrical repairs and related maintenance. Contractor to furnish all labor, materials, machinery, equipment, ladders, tools, supplies and mobility necessary to perform the Work in accordance to RFB 11/12-5. Bids are due by 3 p.m. on November 28. For more information, click here.


The City of Santee, Calif., is seeking proposals from qualified firms, contractors, or consultants to implement the Santee City Hall Lighting Upgrade Project, which will include the verification and installation of new energy-efficient lighting and occupancy sensors. A mandatory pre-proposal meeting is scheduled for 9 a.m. PST on November 17. Proposals are due by 5 p.m. on December 14. For more information, click here.


Advertisement
STARLINE® Track Busway can grow as fast as your facility's power needs grow. STARLINE is environmentally friendly with less installation materials, and outlets that are reusable and re-locatable. STARLINE Track Busway is the industry standard for flexible power and allows you to enjoy time, money, and labor savings. Click here.
Construction and engineering company Cupertino Electric, Inc. (CEI) recently announced it has been awarded the Associated General Contractors of California (AGC) Safety Awards of Excellence in the category reserved for specialty contractors working more than 1 million hours in 2010. The awards were unveiled at a special ceremony in Palm Springs, Calif., on October 28."
To read this story, visit the EC&M website.


On Nov. 1, just over a year after breaking ground, crews from Kaiser Electric graduated from the construction site of Fr. Tolton Catholic High School — the first Catholic high school in Columbia, Mo., to welcome students for the first day of class. Kaiser Electric crews installed the $10 million school's electrical system, which included a 2,000A service, interior and exterior lighting, lighting controls, pole lights, fire alarm, security system and gymnasium sound system. The 60,000-square-foot high school is located at U.S. 63 and Gans Road.
To read more on this story, visit the EC&M website.


At the close of a camping weekend with his daughter and her family, Steve Wisth, an EC&M reader from Wisconsin who has worked as an electrician in the industrial, commercial and residential contracting fields for more than 30 years, needed to "secure" the grandchildren. His wife, a semi-professional photographer, thought quickly on her feet, giving the kids two EC&M magazines.
To see the photo, visit the EC&M website.


Advertisement
Use Greener Wire & Cable
DOW ECOLIBRIUM™ bio-based plasticizers from Dow Electrical & Telecommunications are phthalate-free and RoHS compliant. In wire and cable jacketing they provide the same performance, feel and flexibility as the materials used now, while meeting strict regulatory requirements for flame resistance and safer end-of-life disposal. Visit http://www.dow.com/ecolibrium/building.htm
An electrical vault caught fire Sunday and left an area of Newport Beach, Calif., without power, a fire official reported. The incident was reported about 11:42 a.m. near the intersection of Via Oporto and Via Lido, according to Jennifer Schulz, of the Newport Beach Fire Department. About 188 customers were originally affected by the power outage, but as of 9 a.m. Monday power was fully restored. "Power was restored to all customers early today," said David Song, spokesman for Southern California Edison.

A farmer's market was taking place Sunday when the explosion occurred and was temporarily evacuated after a witness called 911 and reported hearing an explosion coming from a manhole, according to Nisha Gutierrez-Jaime of the Newport Beach Patch. "It was a startling scene when the explosion below ground rattled and pushed above ground the manhole cover," said Mark Anderson, manager of the farmer's market. "Fortunately no one was hurt."

The cause of the explosion is under investigation.