Although the current economic downturn has left the construction industry with an unemployment rate almost twice that of the nation in general, industry experts are predicting a shortage of skilled craftsworkers as Baby Boomers retire and the economy improves. If you would like to discuss how your firm is preparing for the labor shortage, or if you or someone you know has left the electrical construction field for a different vocation altogether, contact Staff Writer Beck Ireland by phone at (913) 967-1806 or e-mail at beck.ireland@penton.com.


Advertisement
AEMC®'s New data logger, the Simple Logger® II Model ML914
The Simple Logger® II Model ML914 is a 4-channel AC current recording device powered by alkaline batteries and includes four integral 6" MiniFlex® flexible current probes. The main advantage of the logger is its ability to perform a variety of recording tasks with easy and intuitive setup from a computer using DataView® software. www.aemc.com
The Federal Reserve Bank of Philadelphia regional economic activity indexes advanced in 30 states in September from August, according to Bernard M. Markstein, Reed Construction Data's U.S. chief economist. On a three-month moving average basis, 33 states showed improvement. Thirteen states declined in September, with the only notable concentration being in the South Atlantic division where activity for five of the eight states declined (Delaware, Georgia, North Carolina, Virginia, and West Virginia). Also included in this division is Maryland whose index was unchanged from August. This was the only division posting a decline, falling 0.9%.
To read more on this story, visit EC&M's website.


Construction employment rose in half the states and decreased in half in October and during the past year, closely matching the stable national employment picture, according to an analysis by the Associated General Contractors of America of Labor Department data. The even split between gains and losses reflects the accelerating improvement in apartment and private nonresidential construction, offset by a declining public market and stalled single-family sector.
To read more on this story, visit EC&M's website.


Construction firms, architects, and engineers are starting to see rising insurance prices in specific sectors, according to the latest Lockton Market Update. Lockton, the world's largest privately held insurance broker, has just published new insights on the commercial insurance market for construction firms and architects and engineers. Said Lockton experts Jamie Knoop, Paul Primavera and Jody Wright in the construction report, "The market is clearly firming in chosen segments and geographies, and while most would hesitate to predict a 'hard' market, pricing is under pressure." The report adds, "Accounts with good loss histories are still able to take advantage of a very competitive insurance market."
To read more on this story, visit EC&M's website.


The market for energy efficiency services and equipment is on the rise as national governments look to reduce energy consumption by improving the efficiency of the building stock, according to a new report from Pike Research. The structure of energy efficient building markets, however, varies considerably from one country or region to another, and vendors and service providers aiming to increase their coverage of energy efficiency markets must remain cognizant of the changing dynamics in order to maintain a strong presence.
To read more on this story, visit EC&M's website.


Advertisement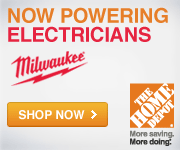 Introducing the Milwaukee® line of test and measurement products. Designed by Pros, with the performance you need and a price that makes adding it to your tool arsenal surprisingly affordable. Work faster. Better. Smarter. We're the only home improvement retailer who's got them. That's the power of The Home Depot.
The Purchasing Department of Barnstable County, Barnstable, Mass., is soliciting bids for fire alarm system replacement at the 2nd District Courthouse in Orleans, Mass. For more information, click here.


The Purchasing Department of Barnstable County, Barnstable, Mass., is seeking proposals from qualified and experienced vendors to provide for information technology telecommunications/data infrastructre non-construction related, low-voltage cabling services and maintenance for county locations and towns within Barnstable County. For more information, click here.


Advertisement
STARLINE® Track Busway can grow as fast as your facility's power needs grow. STARLINE is environmentally friendly with less installation materials, and outlets that are reusable and re-locatable. STARLINE Track Busway is the industry standard for flexible power and allows you to enjoy time, money, and labor savings. Click here.
When evaluating lightning damage to the tower in Hinton, Iowa, serving KPTH and KMEG, as well as their network-affiliated television stations, the grounding system was among the first components to be questioned. For answers, the owners turned to Computer Power & Consulting Corporation, an Omaha, Neb.-based company with more than 30 years of experience with lightning protection, grounding, and power quality issues. Martin Conroy, the company's founder and president, was not surprised at what he discovered.
To read this story, visit the EC&M website.


Wayne J. Griffin Electric, Inc. (Griffin Electric) has completed the electrical installation work at the new East Greenwich Middle School in East Greenwich, R.I. Opened this past spring, the three-story, 105,000-sq-ft institution will accommodate students in grades 6 through 8, in addition to housing administration, a gymnasium, cafetorium, music suite, full kitchen, and classrooms for academics and shops. The new school has been erected adjacent to the existing school, with the project's next phase to include the demolition, abatement and site work for the previous building.
To read more on this story, visit the EC&M website.


Mr. Electric has been named by the Electrical Safety Foundation International (ESFI)as the recipient of the 2011 Safety Award for Excellence (SAFE), presented by the foundation for outstanding efforts in promoting electrical safety. ESFI's SAFE award recognizes utilities, manufacturers, distributors, associations, agencies, nonprofit associations, and other industry-related organizations for active and sustained efforts in support of ESFI's mission to improve electrical safety awareness.
To see the photo, visit the EC&M website.


Advertisement
Use Greener Wire & Cable
DOW ECOLIBRIUM™ bio-based plasticizers from Dow Electrical & Telecommunications are phthalate-free and RoHS compliant. In wire and cable jacketing they provide the same performance, feel and flexibility as the materials used now, while meeting strict regulatory requirements for flame resistance and safer end-of-life disposal. Visit http://www.dow.com/ecolibrium/building.htm
The Horry County, S.C., Coroner's Office confirms Archie "AB" Johnson died the evening of November 23 after sustaining severe burns in an electrical accident at Seacoast Medical Center in Little River on October 28. Johnson and four other hospital employees were injured during the accident involving an electrical panel.
Johnson and one other man were sent to the Joseph M. Still Burn Center in Augusta, Ga. The other employee sent to the burn center has been released.