Starting with the January 2012 issue, EC&M is introducing a new department called "Speaking Out." Featured on the last editorial page of the magazine, this one-page piece will showcase the opinion of industry experts on timely topics that are making a significant impact on the electrical industry. Although not meant as a platform for furthering specific individual agendas, "Speaking Out" will be written with more of an editorial tone — at times presenting opinions, predictions, and solutions on somewhat controversial topics. Whether it's counterfeit electrical products, trade complaints on solar products, loss of electrical-related manufacturing jobs in this country, or how U.S. dependence on foreign metals will nearly double costs for lighting retailers and manufacturers (coming up in the January 2012 issue), the goal of this department is to take a look at the most pressing issues facing electrical professionals today.
Designed to get readers talking and sharing ideas/opinions, this new department is an opportunity for industry experts to write about topics they're passionate about. If you're interested in submitting an opinion piece for this column — or have a particular subject you'd like to read about — please contact Managing Editor Ellen Parson at ellen.parson@penton.com for additional details. We're looking for thought leaders in electrical trade organizations, electrical contracting and design firms, as well as plant facility experts to comment on the most pressing issues in the industry.


Advertisement
AEMC®'s Model 5070 5000V graphical insulation tester
AEMC's Model 5070 megohmmeter is a fully automated 5000V graphical insulation tester. It provides insulation measurements to 10000GΩ (10TΩ). Test results include DAR, PI, DD, Capacitance, Leakage Current as well as programmable temperature correction of resistance readings. The Model 5070 offers the ability to program up to three step voltage profiles (40 to 5100V), each containing up to five steps.
www.aemc.com
Construction employment rose in only 19 states and Washington, D.C., in November, a weaker showing than in recent months, according to an analysis by the Associated General Contractors of America of Labor Department data. In contrast, 25 states plus Washington, D.C., added jobs on a year-over-year basis, while 24 states shed construction jobs.
To read more on this story, visit EC&M's website.


The National Electrical Manufacturers Association (NEMA), representing more than 95% of the U.S. lighting manufacturing industry, remains committed to and supportive of the lighting standards established in the Energy Independence and Security Act of 2007 (EISA 2007). A rider related to light bulbs on the FY 2012 Omnibus funding bill does not repeal or adjust the standards themselves or their effective timeline. NEMA did not support the inclusion of this rider, which imposes funding limitations on the U.S. Department of Energy to enforce the light bulb standards for FY2012.
To read more on this story, visit EC&M's website.


Electric vehicles (EVs) are being delivered by the thousands each month. The power delivery infrastructure that enables vehicles to charge at home, at the workplace, and in public spaces is simultaneously being rolled out. By 2017, Pike Research forecasts that more than 1.5 million locations to charge vehicles will be available in the United States, with a total of nearly 7.7 million locations worldwide. The Asia Pacific region will lead global EV charging equipment sales due to strong government incentives and directives in China, Japan, and Korea. Over the next several years, initial investments in public infrastructure from governments will give way to the private sector.
To read more on this story, visit EC&M's website.


IMS Research's recent study, "The World Market for UPS Service and Support," estimates that 40% of all 3-phase uninterruptible power supplies (UPS) in the field have a service contract attached. The analyst firm forecasts that the number under contract will grow from roughly 280,000 at the end of 2011, to just over 350,000 at the end of 2015.
To read more on this story, visit EC&M's website.


Advertisement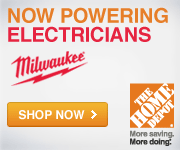 Introducing the Milwaukee® line of test and measurement products. Designed by Pros, with the performance you need and a price that makes adding it to your tool arsenal surprisingly affordable. Work faster. Better. Smarter. We're the only home improvement retailer who's got them. That's the power of The Home Depot.
The Procurement Department of The Port Authority of New York and New Jersey, Jersey City, N.J., is soliciting bids for the rehabilitation of Taxiway C at John F. Kennedy International Airport. The work under this contract consists generally of the rehabilitation of Taxiway C, including modification of fillets, adjustment of utilities, and realignment of centerline and taxiway lights. For more information, visit The Port Authority's website.


The Eastern Iowa Airport, Cedar Rapids, Iowa, is seeking sealed bids for its 2011 paging system replacement project. A pre-bid meeting will be held at 1 p.m. CST on January 4. Bids will be accepted until 2 p.m. CST on January 13. For more information, visit the airport's website.


Advertisement
Use Greener Wire & Cable
DOW ECOLIBRIUM™ bio-based plasticizers from Dow Electrical & Telecommunications are phthalate-free and RoHS compliant. In wire and cable jacketing they provide the same performance, feel and flexibility as the materials used now, while meeting strict regulatory requirements for flame resistance and safer end-of-life disposal. Visit www.dow.com/ecolibrium.
® ™Trademark of The Dow Chemical Company

The U.S. Occupational Safety and Health Administration (OSHA) is investigating after a worker died in an electrical accident at a western Wisconsin meatpacking plant on December 9. Edgar Rodriguez Becerra, 31, was working at the Valley Pride Packing plant in Norwalk, Wis. He was taken to Mayo Clinic Health System in Sparta, Wis., but later died from his injuries. The Monroe County Sheriff's Department is also investigating.


The 2012 BICSI Winter Conference & Exhibition will take place from February 12-16 in Orlando, Fla. Topics for seminars at this year's event include data center efficiency, intelligent lighting, next-generation cabling, wireless, and optical fiber and cabling standards. For more information and to register, visit the BICSI website.