| | |
| --- | --- |
| | In the January 16, 2010 Issue: |
It's nearing the end of NAMM day three, and this show ROCKS! There were some who weren't expecting a great turnout, but the joint's been packed since day one. There's a whole lot of enthusiasm here, both from exhibitors and show-goers. Gear-wise, there are tons of new products, many of them very impressive, but there's no single "you gotta see this one" dazzler. The overall theme—if there is one—is a feeling of gratitude that 2009 is behind us. So now, with the arrival of NAMM 2010, everyone's ready to move forward with new ideas, new technologies and new optimism. Bring it on!

Follow our NAMM coverage online at emusician.com/ms/namm and our blog posts at The Bus. If you're at the show, come by and say hello at Hall B, Booth #5715.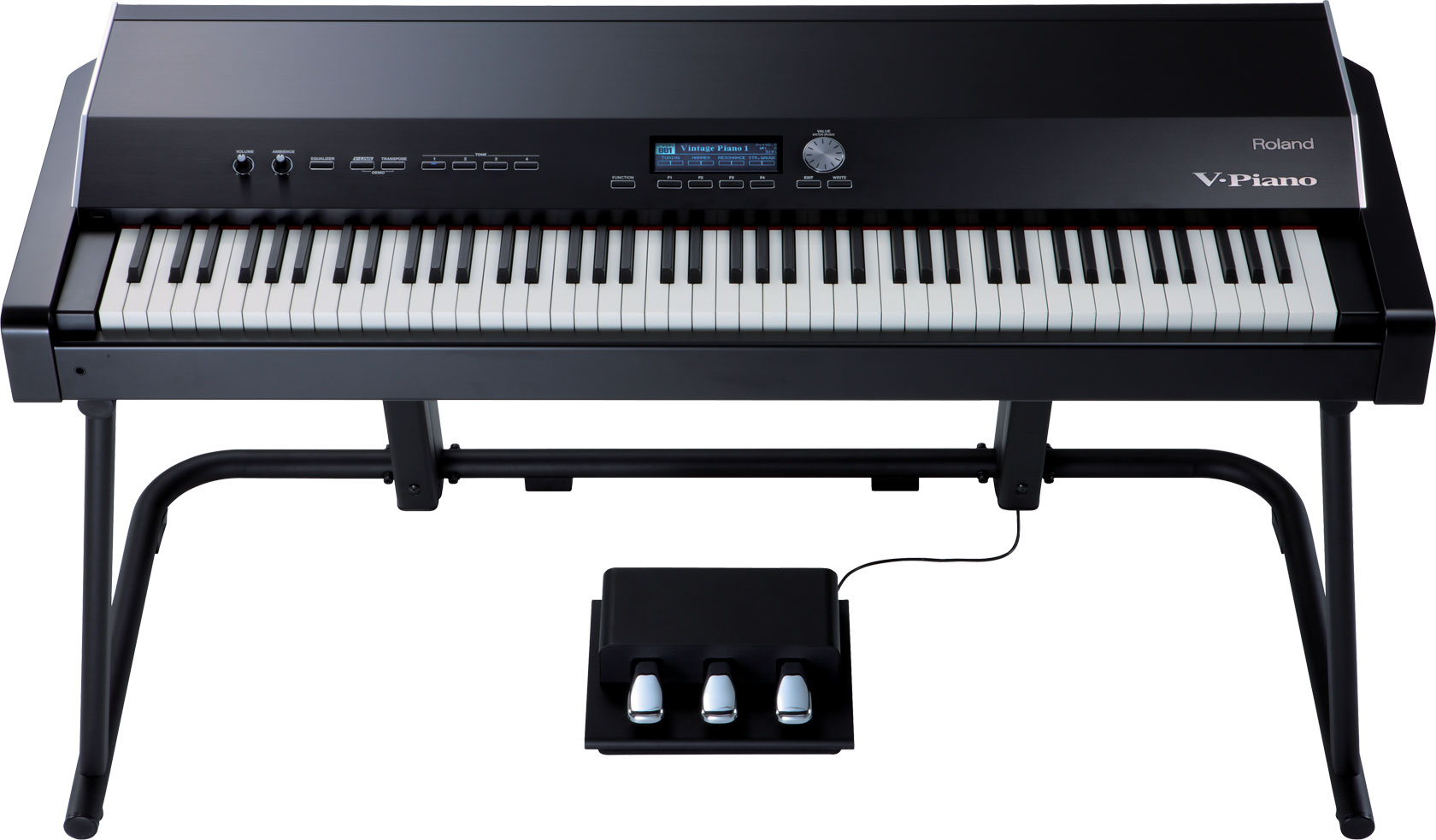 This new V-Piano system upgrade adds two new Vintage and two new Vanguard piano models to the revolutionary V-Piano. Owners of existing V-Pianos can download this upgrade at RolandUS.com.
NAMM Booth: #7400
Find out more about the V-Piano Evolution
Moog Music Taurus 3 Bass Pedals
Players, producers and DJs everywhere have been anxiously awaiting the return of the ultimate bass machine. Bass connoisseurs worldwide made this instrument possible by pre-ordering it sight-unseen. Now the wait is over. The new Moog Taurus 3 Bass Pedals faithfully re-create the sound of the legendary Taurus I. We started with an in-depth analysis of the original circuitry, and then added modern amenities like MIDI and USB. We didn't stop until we had created a work of art that can knock down a small building. If you're serious about bass, take the next step up to the ultimate bass synthesizer: Limited run: Less than 1,000 will be built.
NAMM Booth: #6100
Find out more about Taurus 3 Bass Pedals
Furman P-1800 PF
An update to Furman's Power Factor Pro, the P-1800 PF is a floor version of the popular rackmount P-1800 PF R. Ideal for instrument amplifiers and guitar/bass heads, the P-1800 PF provides comprehensive protection with Furman's exclusive Power Factor and Clear Tone Technologies for uncompromised performance from high-current gear. Furman's Power Factor Technology reduces AC line impedance by providing a 45A peak current reservoir. This gives instrument amplifiers and powered speakers the headroom to operate at maximum efficiency and sound consistent from venue to venue. The P-1800 PF features isolated outlet banks to minimize intercomponent interference, and offers Furman's exclusive SMP/LiFT/EVS technologies for professional-level protection and linear AC noise filtration. The unit's LED voltmeter displays the incoming line voltage, while Protection OK and Extreme Voltage indicators provide information on power quality and the operational status of the unit.
NAMM Booth: #6874
www.furmansound.com
Big Fish Audio Electri6ity
Electri6ity is a very large electric guitar library. It has a wide variety of guitar tones (335, L4, Les Paul, P90, Lips, Rickenbacker, Strat, Tele) and the most complicated Kontakt scripting we've done to date. It's a huge product (several DL DVDs) and has a lot of new technologies we've built specifically for it. Three pickup positions for each guitar, seamless velocity layers, large number of articulations, different playing techniques, strumming, plus effects and amplifiers and stomp boxes.
NAMM Booth: #6514
Find out more about the HS-P82
Today's Bloggers, Sponsored by Peavey DJ
At the Waves press conference this morning, plenty of new products were unveiled. My favorites were the Signature-Series plug-ins from Chris Lord-Alge and Jack Joseph Puig. Each features dedicated plug-ins for vocals, guitars, drums and more. They're due out in March and will cost $800 each. Puig and Lord-Alge were both present at the press conference and talked about and demoed their plug-ins. Read the rest of this blog post
Spectrasonics' big NAMM announcement is the version 1.2 update for its Steam Engine-based plug-ins, Omnisphere and Trilian. Enhancements will include cross-platform 64-bit operation (yes, for Mac users, too), new "juicy" filter algorithms, and an improved browser system. Read the rest of this blog post
Waves announced Horizon, a premium collection of over 50 plug-ins. Available in Feb $5750 Native, $9500 TDM.

At NAMM, Focusrite announced the Octapre MKII Dynamic ($699), an audio interface with a Focusrite pre and compressor on each channel.

The Bridge lets you use Scratch Live from within Ableton Live. It also lets you open ALS files in Scratch Live. Read the rest of this blog post

Read more Blog posts!
Latest Videos, Sponsored by Universal Audio
Audix Fusion Drum Mics
Audix co-founder Cliff Castle intros the expanded line of mid-priced drum mics and bundles at Winter NAMM 2010. Watch the video now!


Akai Pro iPK25 Keyboard Controller, SynthStation App for iPhone
At NAMM 2010, Autumn Pittman unveils the Akai Professional iPK25 keyboard controller and SynthStation application, which turns your iPhone into a powerful pro-level synth. Watch the video now!


Tascam Products
Future rock star Ashley McCabe helps demo some of the new Tascam gear being shown at the 2010 NAMM show, including instrument trainers, the DP-004 and DP-008 Digital Portastudios, a full line of compact portable digital recorders and three new computer recording interfaces, including the updated US122 MkII and the multichannel rackmount US800. Watch the video now!

Watch more NAMM videos!
It seems that every day, there is a new iPhone app ready for download—whether it's a game, tracking sport scores, etc. Next month, Mix looks at high-end audio iPhone apps that can be tools for your next production. Tell us your favorite audio app by e-mailing mixeditorial@mixonline.com.

Do you perform music live? Frequently. Occasionally. Never. Click here to take the poll!.